What's new in Beautiful Practical Flooring from Amtico?
There are some fabulous styles in beautiful practical flooring from Amtico right now. From patterned floors in collaboration with the National Trust to hexagonal-shaped stone effect tiles. Read on to find out more about some of our Amtico favourites this season.
And remember – you can see all the Amtico LVT flooring products at both our Knutsford and Bowdon showrooms.
Amtico Décor x National Trust Collection
We absolutely love these floors with their nostalgic designs in the Amtico Décor x collection, in collaboration with the National Trust. We are seeing continued interest in floors with patterns this year. If you are looking for a patterned floor, this collection will transport you back in time to the grandeur and heritage of the floors found in places cared for by the National Trust. These floors make a great hallway entrance in a period property, as a feature around a kitchen island in a country cottage, or as something more striking for a bathroom or en suite. And being an LVT, as well as looking fabulous, they are incredibly practical floors too.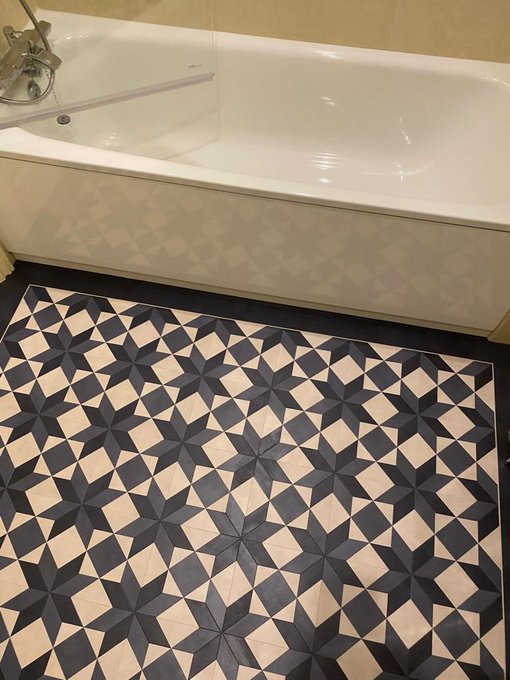 This is the Amtico Décor x National Trust Victoria Star LVT floor in colour Clarence installed by our team to a family bathroom in Knutsford. It has the look of iconic Victorian tile flooring, in a practical LVT.
This Amtico Décor x National Trust collection is very much a modern take on traditional, retro styles. It takes inspiration from the tones and textures found in the fabrics, materials, and colours of the Georgian and Victorian eras and brings them to life as floors for modern homes. And patterns are big right now - think maximalist interiors and something to shout about. People aren't afraid to bring an injection of colour or abstract patterns into their homes; quite the opposite in fact.
And the beauty of this collection is that you can combine it with other softer, natural options in the Amtico Signature collection to create your own unique floor.


Here you can see the Amtico Décor x National Trust Octagon Key Rayne LVT floor. It takes inspiration from architectural features of the Georgian era – think the look of luxury marble, with all the practicalities of an LVT.
You might be wondering how the collaboration with the National Trust works? As well as working together on designs, a percentage of the money from the UK sales of this flooring collection goes to the National Trust. This helps to ensure the long-term care of landscapes, coastlines, and treasured buildings, to ensure their survival. If you love your local countryside or coast, or you appreciate all the National Trust do, then you can not only bring a little bit of the National Trust into your home with a beautifully patterned floor, but you can support this much-loved conservation charity too.
Shapes and patterns with Amtico Form
If you don't know, the Amtico Form collection sits pricewise in between the Amtico Signature and Spacia collections, with Signature being the more premium of the two. And over time, this collection has evolved to offer more exciting LVT flooring designs, all at a good price. We wanted to share a couple of the styles you can now get from Amtico Form.
The first is one of the Amtico Form Stones, called Hex. And yes, that means a stone-effect LVT in a hexagonal shape. The Hex Stones offer everything from the look of cool, clean marble to darker, earthier shades of stone. We love the hexagonal shape – it's quite different and creates an intriguing movement across the floor. There are six different Hex Stone colours to choose from.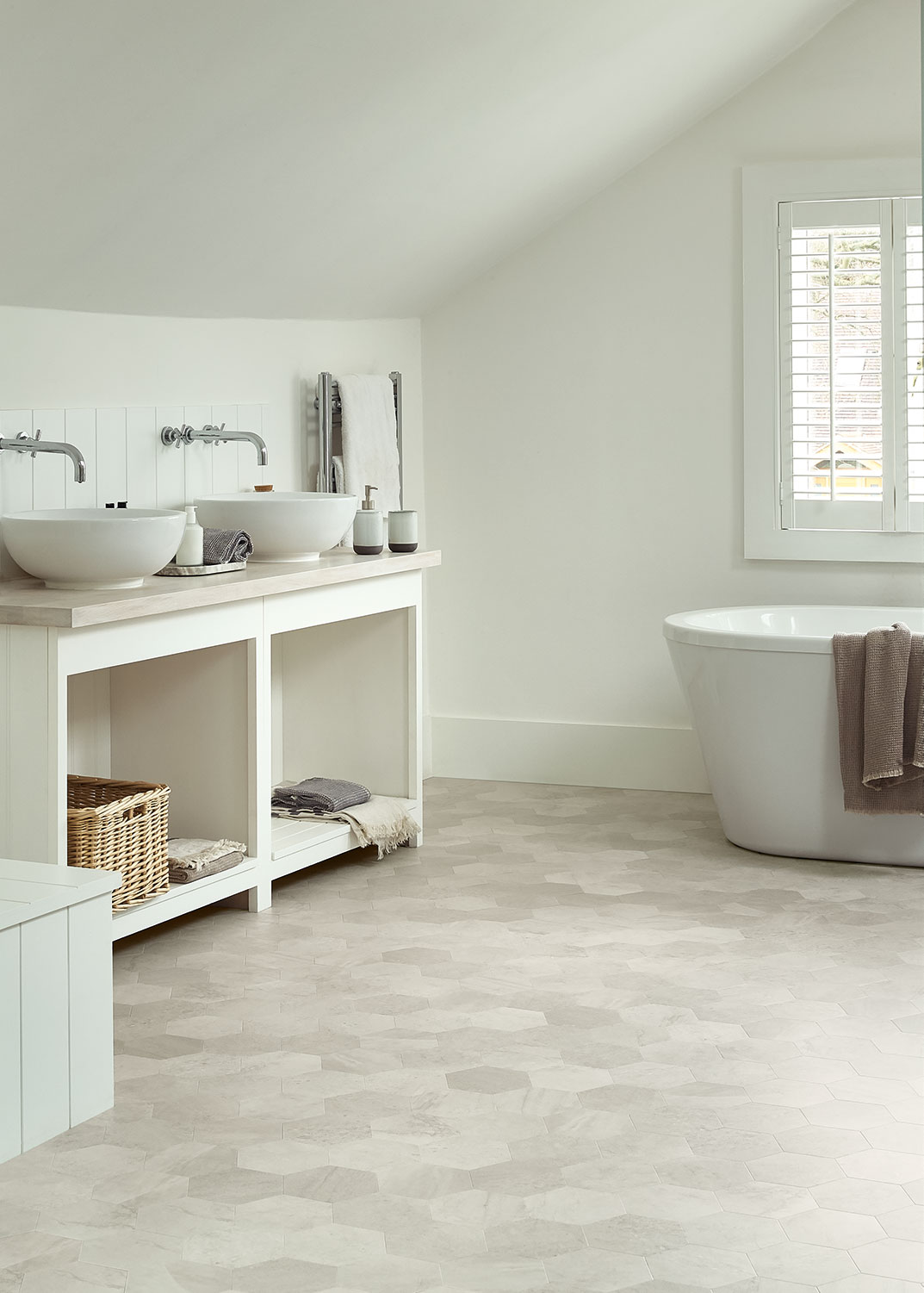 Amtico Form Hex Stones in colour Opal – a beautiful blend of neutral greys in a hexagonal shape tile, bringing calm and tranquillity to any space. And it's an incredibly practical LVT floor, perfect for bathrooms or busy family spaces.
The other wonderful new addition to the Amtico Form collection is the new basket weave parquet option. Previously, the basket weave laying pattern was only available in the Amtico Signature collection. But now, it's being brought forward and made more accessible within Amtico Form. There are 4 different wood effect colours in the basket weave pattern - these include: Valley Oak, Kalmar Oak, Fawn Oak, and Rural Oak.
Parquet flooring remains as popular as ever, and we're seeing more demand for other patterns such as chevron and basket weave, and well as the much-loved herringbone.
A point to note is that all of the Amtico Form basket weave floors, are also available in large and small herringbone parquet sizes too.


This is the Amtico Form Valley Oak floor in a basket weave pattern. With its steely tones, it's a great choice for modern homes, creating an eye-catching interior, all at a more affordable price.
Sophisticated laying patterns with Amtico Signature Designers' Choice
For the ultimate in stylish floors, Amtico have the experts do the design work for you with their Designers' Choice collection of ready-to-use floors. There are a couple of new options in this collection which will definitely bring something special to your home, and which we think are fabulous.
The first of these is the Passo floor; it brings a modern, graphic, balanced pattern with its clean lines. It is eye-catching and impactful and looks great whether you take it across a whole room or use it to create a feature in a kitchen or dining area.
Passo comes in a choice of two sizes: mini and small. And each floor within these sizes features three different coloured tiles (as selected by the Amtico Signature designers). The mini tiles are just that, very small with a 152.4mm width, while small size tiles are a little larger, with a 228.6mm width. The Passo mini floor comes in a choice of 5 colour options; the Passo small floor comes in 4 different colour options.


If you are looking for something unique and not seen before, for a floor for your home, you should definitely take a look at Amtico Signature Passo in the Designers' Choice. This one is 'The Chic' in the mini laying pattern, which is made up of Amtico Signature Tempus Harmony, Modernist Frame, and Encaustic Mineral.
Another beautiful and practical Amtico floor, which takes pattern to another level, is the Designers' Choice Key Stone floor. Such is the design of this floor, there are some wonderful colour combinations avaiable from simple and muted, to bold and striking. And the same floor can look completeley different depending on whether two or three colours are paired, so much so it almost plays tricks on your eyes!
Whether you want a striking pattern for your hallway or bathroom, or you want to add a feature to your kitchen or dining area, the Key Stone floor is sensational.


This is an example of the Amtico Designers' Choice Key Stone floor – The Kura blends blues, greys, and pale metallic highlights making use of three different Kura stones from the Amtico Signature collection. The result is a modern geometric pattern, and a floor with real depth and personality. Plus, being made from Amtico Signature products, you get a 1.0mm wear layer and a floor of exceptional quality and performance.
This is just a small snapshot of what's available from Amtico. We hope it gives you some inspiration whether you've got a renovation planned, an extension finishing, or you are updating any rooms of your home this year, and you need new flooring.
If you like what you see here, come and visit us in Knutsford or Bowdon to see more samples of the Amtico Form, Amtico Signature and Amtico Décor collections. You can get a good idea for colours and take samples away with you. Plus, you can book in with us for a free Amtico flooring estimate.
If your room is ready for a new Amtico floor and you love the look of what we've shared here, contact us to arrange your free flooring survey.
---