We're 100% Independent
A lot of people confuse our business name with the larger, national flooring brands (whose names we won't mention!) and then often expect something quite different from us.
We'll be the first to admit, perhaps we could have made things easier with a name completely different to the larger competition, but we liked the straightforward concept of delivering flooring for you (written with the number 4, of course!). But to be absolutely clear - we are not a franchise, nor are we part of any larger flooring organisation.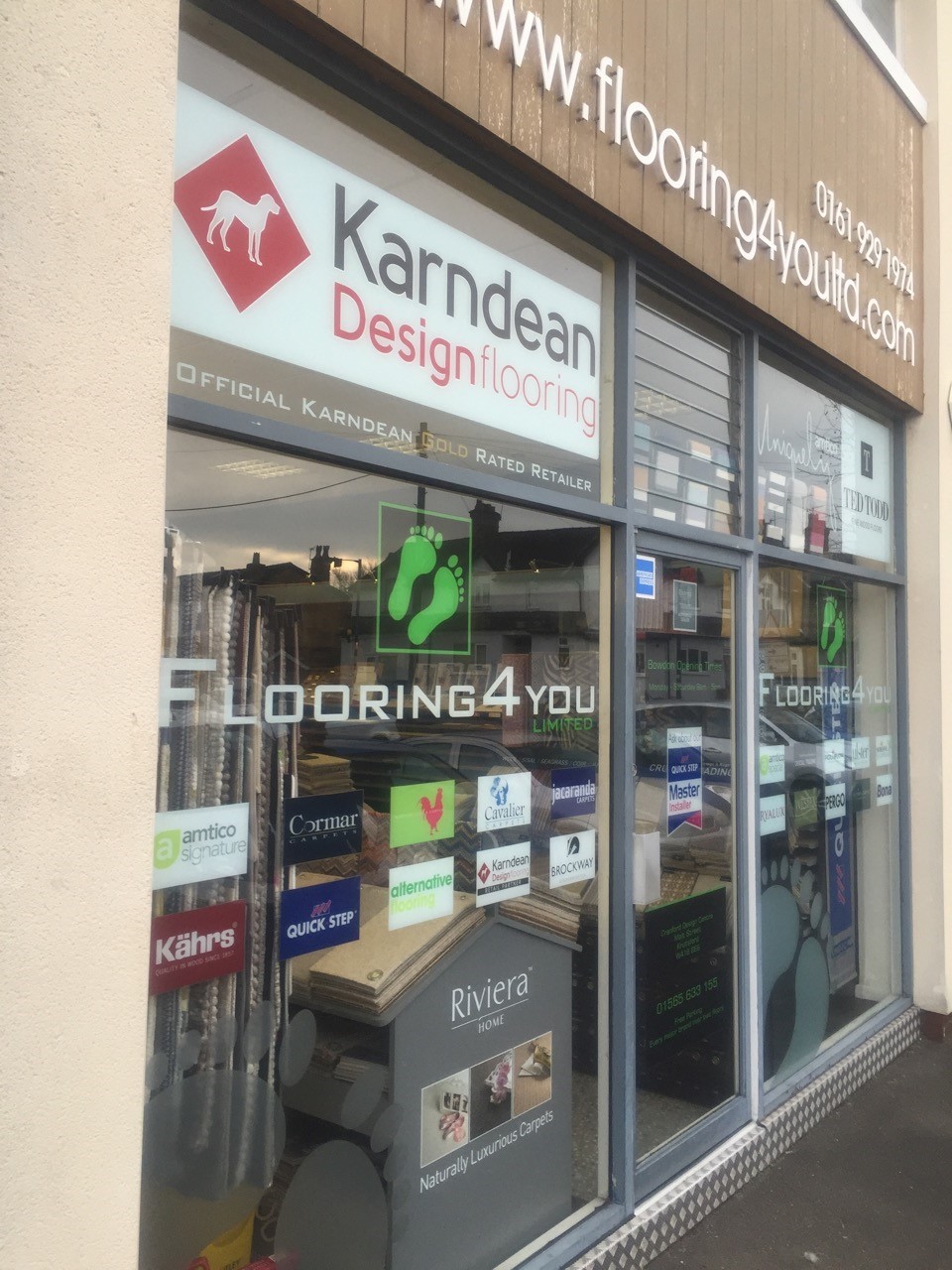 Showing: Our Bowdon shop front – look for our logo with the green feet!

So, who are we?
We are a truly independent, Cheshire-based flooring business owned by Simon Towsey whose knowledge and passion for flooring is ever apparent. Having worked as a surveyor, estimator and fitter of flooring for several years, he opened the first Flooring 4 You showroom in Bowdon – in fact it was Christmas Eve in 2010 when he was handed the keys, an exciting time to start a new venture with the New Year ahead.
And it went very well, which led to a second, larger showroom opening in Knutsford in 2013 – this becoming the official Flooring 4 You Design Centre, stocking the most flooring products over two floors.
Then in Summer 2016 came the opportunity to service more of the Sale, Timperley and Altrincham areas with a showroom in Timperley village, on the site of the former carpet shop.


Showing: Our Timperley showroom we opened in 2016, in the heart of Timperley village.

Independent retailer service
What we have worked hard to achieve is a level of service that cannot be matched by the larger, national flooring companies. From the minute our customers call one of our showrooms or visit for the first time, to when we finish laying their new flooring, we always try our very best, to do our best and keep customers informed along the way.
Often, we are asked for the quickest turnaround possible for flooring projects, which can be difficult for a small, independent business, especially through busier times or if staff are on holiday. While we strive to meet customer's needs, one thing we don't do is over promise on a delivery or installation date that we know isn't realistic, neither do we offer any preferential treatment. We are open and honest from the start about what we can achieve, by when and if we have customers already booked in for an installation – they always come first unless they call us to cancel or change dates.


Showing: our Installation team in action, fitting Karndean LooseLay floor to a home in Sale.

Choice, knowledge and expert advice
We have an unrivalled choice of flooring at our showrooms, which is probably something we do have in common with the large, national chains. Across the different flooring types, we can supply a selection of flooring brands - take luxury vinyl flooring for example where we have Amtico, Karndean, Quick-Step and others such as Distinctive Design Flooring available. When Simon started Flooring 4 You, he wanted to be able to offer customers the very best flooring choice, across all colours, textures and budgets.
And then there's the knowledge – our staff, from those in the showrooms to the installation team are all local employees, many of whom have been with us for several years. Whether from a design perspective and offering style advice, to technical flooring expertise or overall product knowledge, they can offer solutions for specific flooring needs or come up with ideas to inspire. From being trained to install floors with the flooring companies themselves, to attending factory trips to see how products are made, staff are given insight and information into all the flooring products we offer, to be able to share the very best advice with customers.


Showing: Inside the Flooring 4 You Knutsford Design Centre – the showroom stocking the most flooring samples.
So, if you are browsing the internet and come across Flooring 4 You or you pass by one of our showrooms in Knutsford, Bowdon or Timperley – remember we are 100% independent, covering Cheshire and South Manchester with our flooring products and know-how!

Yes we are independent but we still stock all the biggest names in flooring, such as Karndean and Amtico luxury vinyl design flooring, Ted Todd engineered hard wood floors, Quick-Step laminate and hardwood floors, as well as floor coverings from Alternative Flooring, Axminster, Cormar Carpets, Jacaranda Carpets, Crucial Trading and iSense Carpets to name a few.
For a free on-site survey, give us a call or visit one of our showrooms to see us and talk flooring for your next project.
---