Unnatural Flooring for outdoor living
It sounds unusual but Unnatural Flooring is quite a remarkable flooring creation. Made from woven vinyl, it's robust, waterproof, compatible with underfloor heating and suitable for use both indoors and out.




Flooring for outdoor living
Granted we've had a bit of a blip with the weather in the last week, but when Summer does come back, we'll be siding open the bifold doors once again and enjoying our extended living spaces, outside. Spaces where we dine, relax with friends and family, where the children play or we do some exercise. Spaces that can be effortlessly transformed, like an ordinary patio or decked area, into a stunning outdoor entertaining space by using a stylish weatherproof rug as a focal point.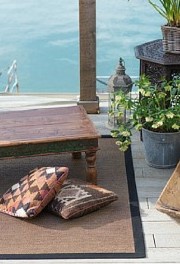 But not any type of flooring will do – it needs to be UV stable, good in wet areas, easily cleaned (by jet wash too if necessary) and slip as well as mould resistant. Basically, everything that Unnatural Flooring offers. With the warm, attractive, textured look and feel of natural flooring, Unnatural Flooring has the waterproof practicality of a woven vinyl and can withstand year-round exposure to all weather extremes, without losing its quality. So yes, the ideal flooring for outside, whatever the weather.

What are the options?
In terms of size and area, Unnatural Flooring can be installed full length in the same way as carpet, ideal for garden rooms, conservatories or other indoor areas; or it can be purchased as a rug, made to the required size to add a homely touch to a patio, balcony or deck. A range of classic and contemporary colours are available that complement any garden furniture and being made of woven vinyl, the flooring and feel like a natural sisal or seagrass.



Summer houses
The ideal place to retreat at the bottom of the garden, flooring in a summer house or garden room needs that perfect balance between style and practicality. Not only will the floor need to be able to cope with wet and muddy feet coming in and out of the garden, but it needs to look and feel homely too. And with Unnatural Flooring suitable for use with underfloor heating, your summer house can be cosy all year round.

Step in from the outside
When you have impressive bi-fold doors leading into a stunning open plan kitchen, the last thing you want is an old-fashioned style doormat to greet you. But you don't want your kitchen floor dirty either and you need somewhere to put shoes, all the practical bits are to be deal with, without compromising on style. Unnatural Flooring is the ideal practical solution, the perfect choice of door mat for any conservatory, kitchen, hallway or any entrance into the home. It is so easy to clean, even if you are prone to wet and muddy feet continuously traipsing through your home. Some hot soapy water and a simple scrubbing brush do the trick!

It's pretty much indestructible
The fact its weatherproof and can be kept outside, it doesn't fade in the sun, doesn't stain and is resistant to mould makes Unnatural Flooring pretty much indestructible. It's perfect for all those tricky areas in the home, even roof gardens and wet areas as well as being safe for children to play on and the many styles complement modern, stylish interiors.



Consider enhancing your outdoor living space by clustering rattan lounge furniture around a woven vinyl rug, or defining an alfresco eating area with a rug underneath your garden dining furniture. Decorate with a few pots brimming with bright flowers, garden lights and a fire pit – you'll feel so comfortable and at home outside that you won't want to go back in!

Come and see, touch and feel Unnatural Flooring samples at all our showrooms in Bowdon, Knutsford and Timperley Village. Talk to our flooring professionals to find out more about this unique range of flooring whether for a whole room or to be made into a bespoke rug for indoor or outdoor use.
---