The Lowdown on Rug Edges and Borders
We sell bespoke made-to-measure rugs and stair runners and can offer a variety of finishes when it comes to the edges of these products. But what are the different rug edges? What borders are available for stair runners? We explain the terminology and share examples of both stair runner and rug edges. Find out more…
Why edging matters?
The type of edging you choose for a rug or stair runner matters from a design, practicality, and cost perspective. You might want something simple to keep the budget down. Or on the other hand, you could be keen to add texture or colour with a taped border in a different material. Whichever method you choose, professional edging of rugs and runners is vital. You don't want any fraying to occur, nor do you want to welcome trip hazards with poor quality edging work.
One thing we take the time to explain to customers who have a bespoke rug or stair runner designed with us, is the type of borders and edging available. There are different terms for different methods, so to avoid confusion we thought we'd make it clear, which rug edges we offer.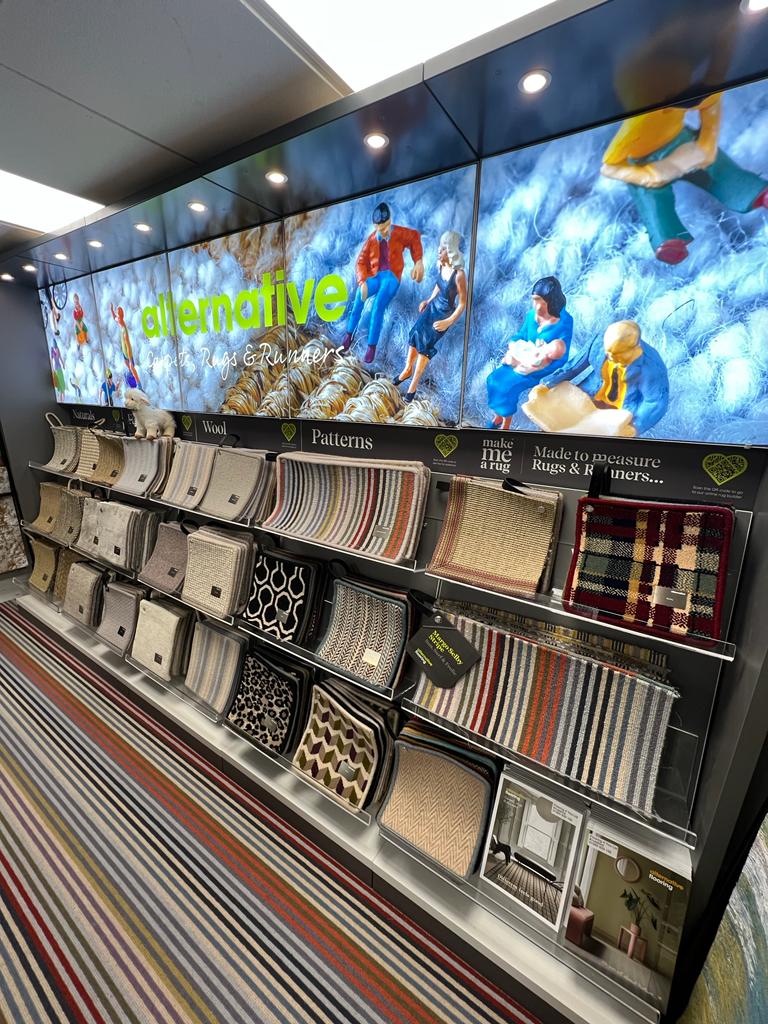 There is no shortage of choice when it comes to rugs and stair runners at our Knutsford showroom. Whatever you hope to create, we are sure to have the texture, pattern, and colour to suit you – plus we can get you the best edge or border to finish.
Blind hemming
A blind-hemmed border is done on the very edge of a piece of carpet - it might also be called blind bound. This is a great option if you want simplicity and a clean, modern finish.
The process of blind hemming is done with a machine, with the hemming being stuck to the underside of the rug or runner for minimal visibility. It allows a neat edge without any stitches being seen, hence the term 'blind' hemming. The thickness of the carpet will depend on how much of the blind hemming you might see.
If you look at a rug or runner from the side, you will notice the blind hemming. But look at it from above, as you walk, and it might be harder to make out.


Examples of rugs with blind hemming at our Knutsford showroom.
Hand-sewn edging
There are options to have the edges of a made-to-measure rug, completely sewn by hand. In this process, the same-coloured material is usually used to sew the edges. For example, if you take Jacaranda rugs which we both stock here in our Knutsford showroom and can have made into bespoke sizes for customers, they will use either the wool or TENCEL™ which makes the main rug in the edge sewing. In fact, all of Jacaranda's stock rugs have hand-sewn edges as standard.
The same goes for Elements London, whose made-to-measure rugs and runners are popular in Cheshire homes. The bespoke rugs from Elements London are also hand-sewn to give edging a luxury finish.


Examples of just some of the rugs with hand-sewn edging available for sale in our Knutsford showroom.
Whipping
Carpet whipping is popular in the flooring industry as a quick and cost-effective means to protect and strengthen the edge of a carpet offcut when turning it into a rug or mat. The process is usually done on whipping machines with a specialist whipping company, hence whipped rugs and runners can be turned round in far quicker time.
Whipping itself is the process of attaching a strong, hard-wearing, colour co-ordinated band of yarn or wool, stitched around the edges of a carpet, or along the edges of a runner. Another term that is sometimes used for whipping, is serging. Whipping is a specialist skill, and its finish involves overlocking the edge of the carpet or runner to give it maximum strength.
While there is nothing wrong with whipping, and we do often have edges of stair runners or rugs whipped for customers, it isn't as elegant as other edging solutions. Whipping tends to draw the attention away to the edge of the rug or runner, while blind hemming or hand stitching is much more subtle. However, it's a reliable method, can be done quickly, and is often better for your budget.


This is an example of a whipped edge we did recently. In fact, this particular stair carpet installation was quite bespoke due to the fact we whipped only the one edge. Due to the design of the staircase and the spindles, our customer opted for a runner style finish with a single whipped edge.
Cotton Border
Probably one of our most popular edging options is a cotton border. Cotton borders are incredibly versatile – they give rugs a sophisticated finish and help give another dimension to stair runners. You can also bring a touch of colour to your rug or runner with a cotton border, which is a great way to complement other colours in your décor. For example, black cotton borders are proving very popular on stair runners at the moment with more and more staircases with black details being done in home renovations, even black internal doors.
There are options for patterned cotton borders for your rugs or stair runners, too – cotton herringbone borders are popular.
In some cases it is possible to do a double border, so combining two cotton border colours, or having one colour as piping alongside the main border. The beauty is, we have many options to help you create the rug or stair runner unique to your home. Thanks to the many high-quality carpet and rug companies we work with, there's plenty of choice no matter what your budget or circumstances are.


We recently had this luxurious stair runner made, and we then installed it in our customer's Cheshire home. They chose a black cotton border along with black stair rods to finish the bespoke runner – you can see it matches the black spindles of the revamped staircase. The runner itself was made from the ultra-decadent Elements London Manhattan Times Square carpet, in colour Whiskey Sour.
Other Border materials
As well as cotton borders, you can finish a rug or stair runner with a velvet, linen, even a leather or faux leather border. In some cases, we can also mix and match the suppliers we use to create you the perfect finished rug or runner. You might love the pattern for the runner from one company but it's another whose borders you prefer. That's fine – we can work with all the necessary businesses to craft exactly what you need. Then we can either deliver your custom-made rug to you, or you can pick it up from us. And with a stair runner, of course we will always come and fit once it is made, at a pre-arranged date and time suitable for you. Our professional flooring team are experts at fitting stair runners across all types of staircases, including those with multiple landings and lots of twists and turns.


You can see in this image the contrast between textures of the bespoke stair runner which matches the floorcovering on the landing, and the customised rug. The stair runner is made from an incredibly strong, hardwearing look-a-like sisal. With its classic herringbone weave, this is Bar Harbor from Unnatural Flooring, paired with a black cotton border. The made-to-measure rug seen in the foreground, has been made from a super soft faux silk – it is one of the luxurious Jacaranda rugs, with a black linen border.

We hope this blog helps to demystify what is what when it comes to rug and stair runner edges and borders. Plus, we hope it shows how the extent of what we can offer when it comes to designing your own rug or runner. From textures to patterns in both the centre of the rug and runner, to the edging or border finish – we can help you create beautiful pieces for your home. Make sure to visit our Knutsford showroom to see all we have available.
---