Talking Ted Todd Engineered Wood Floors
Everybody is talking Ted Todd engineered wood floors these days. The Cheshire-based business is a national favourite when it comes to styling homes with the most practical yet stylish wood floors. We're proud to be one of the leading retailers and expert installers of Ted Todd floors across the wider Cheshire region. Read on to find out more.
Ted Todd floors are renowned for quality
Ted Todd fine wood floors are one of our best-selling products for those wanting engineered wood flooring.
And what makes Ted Todd so popular is its level of quality and choice. Ted Todd floors show an appreciation for interior design, a passion for creative space and unrivalled product quality. These can be seen with every plank, parquet block, and panel pattern across the different collections.


This is the Sherwood engineered wood floor in the Ted Todd Classic Tones collection. It's been one of our best-sellers for the past year or so. And that's down to the fact there are a lot of options size-wise with this floor, making it very versatile. It also looks great. Each plank and herringbone block is emphasised by an almost black edge detail, helping them to stand out and give the floor that element of distinction.
The benefits of engineered wood floors
There are many benefits to engineered flooring.
There are the aesthetic benefits, where the floors look just like solid wood, showcasing all the natural beauty real wood floors have to offer.
On a practical level, they are incredibly tough and can withstand heavy footfall in even challenging areas. This is because engineered floors are precision made from layered sections of solid wood bonded together. The strength and resilience of the planks is enhanced thanks to the grain of each piece of engineered wood running in a different direction to its adjacent layer, which also reduces the wood's natural tendency to expand and contract.
And when it comes to choosing a floor, with Ted Todd especially, there are many different design formats so you can create a floor to suit your living space.
All Ted Todd engineered floors are suitable for use with underfloor heating (although a prior consultation with the heating engineer or manufacturer is always advised).
And believe it or not, engineered wood flooring isn't hugely expensive. In fact, an engineered floor makes a good investment for any home; it's a floor which will last a lifetime and can even add value to your property.


This floor is Furrow in the Ted Todd Warehouse collection. As well as one of our current best-selling engineered wood floors, Ted Todd confirms it's one of theirs too. The smoky grey tones running through the floor are delightful and help emphasises the floor's character. Whichever room you choose to lay Furrow in, it will transform the space entirely.
Furrow is another versatile wood floor, being available in a choice of widths, including narrow herringbone and chevron options.
Ted Todd are flooring innovators
At the heart of Ted Todd is the desire to create stylish, eye-catching wood floors without compromising on sustainability. For over twenty-five years now, the business has been focused on making and delivering floors which not only look good, but which last a long time.
All the wood used to make the floors comes from sustainably managed forests, so you know you are buying a product from a reputable and reliable source.
Ted Todd have forged a solid reputation in the flooring market, being renowned for their high-quality wood floors that offer great value for money.
Whether you want straight planks or parquet, a classic look, or a floor with interesting tones or lots of texture, Ted Todd has a floor that will work in every space.


Our team installed this Ted Todd Fleece floor from the Warehouse collection in a chevron pattern throughout a luxury apartment in Bowdon. Fleece is a light oak floor packed full of character having lots of knots, burrs, and lovely grains running through it. It's another versatile option too, coming in the multi-width planks as well as the herringbone and chevron blocks.

Ted Todd and Flooring 4 You Ltd
Being local to Ted Todd (their headquarters are in Warrington, Cheshire), we've been fortunate to strike up a close working relationship with them.
For well over ten years now, we have been supplying and installing Ted Todd engineered floors. In that time, we have gained invaluable product knowledge, including how best to install the floors in the different home environments they are wanted.
We take the necessary moisture tests when we survey your property, our installation team are qualified to fit the floors (and do so to a very high standard) and once your wood floor is down, we share with you how to clean it and care for it for years to come.
We have always had product displays of Ted Todd in our flooring showrooms. And today, in our brand-new Knutsford flooring showroom we have a dedicated Ted Todd area, with one of the largest displays of Ted Todd floors in the Cheshire region. This features a design table for working with building plans, comparing colour schemes, and getting creative with the different floor laying patterns.
It really is a joy to work with good quality products, and we certainly love installing Ted Todd floors in our customers' homes.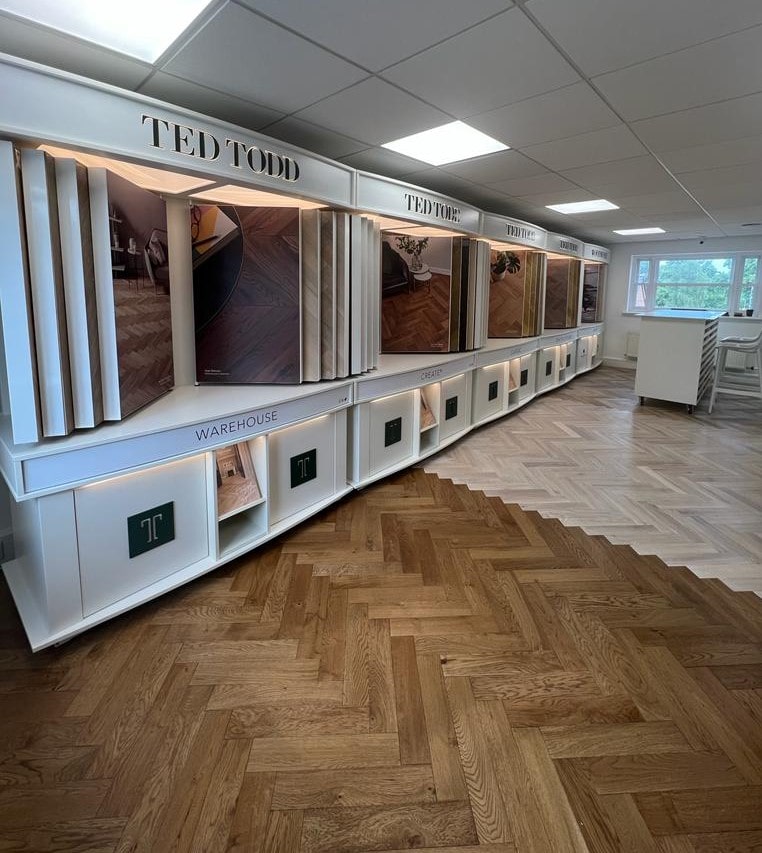 And here it is! The Ted Todd engineered flooring area inside our new Knutsford room which you can find at Suite 5, 25 King Street in Knutsford. Whether you want to take a first look at Ted Todd floors, compare wood floors colours and samples, or book an appointment for a free home survey, we can help you.
If you're looking for on-trend wood flooring for your home, come and see us about Ted Todd. As well as being able to see all the samples from across the Ted Todd wood floor collections, our professional team can help with any questions you have. Find out more here.
---