Stair runners - for the best of both worlds
Stripped wood or painted staircases have been very fashionable within home interiors over the last few years and there's no doubting their stylish look, but how practical are they? The noise of feet walking on bare wood, the cold surface under foot and the potential safety implications if you have a young family are all important considerations.

But you love your wooden stairs
Of course! It's a great look and there is a compromise to be had with stair runners so you can still see some of the wood beneath a strip of safe, soft, warm carpet. Any carpet can be cut to size to fit as a runner on your stairs and with there always being 10cm either side of the carpet, showing the wood underneath, you get the best of both worlds.



Showing: A 100% wool, herringbone pattern runner with trim from Alternative Flooring that we fitted to stairs at a home in Chorlton, Manchester.

Which carpet works best for a runner?
As we said before, any carpet can be cut to size to make a runner for the stairs, but it's not always the most economical way to do it as there can be a lot of waste. It's worth bearing in mind if you have ample carpet left over from another room, to consider having it made into a runner for the stairs.
Some companies like Alternative Flooring, Crucial Trading and Fibre Flooring, have a range of floorcoverings designed specially as stair runners. Made using the very best hardwearing materials to be able to withstand high volume traffic; they aren't just practical but designed with the latest interior trends in mind.



Showing: Alternative Flooring Rock'n'Roll runner; the dark and light stripes work perfectly with the vertical effect of the runner going up and down the stairs.

You want your runner to last
Any floorcovering going on the stairs, be it a runner or full carpet, needs to be tough enough to deal with heavy footfall - even more so if you have a bigger family. While any carpet can be made into a runner, those carpets at the lower end of the budget, usually synthetic types made from polypropylene are prone to flattening, bursting the pile which can make the carpet look tired and worn, pretty quickly.
For an area like the stairs, it really is a case of the better quality material you invest in, the longer your stair runner or carpet will last. For that reason, good quality wool blends in loop or cut pile styles and better still, 100% wool carpets are the best option. As well as being hard wearing and long lasting, wool keeps it shape and height (no flattening) and provides natural thermal and sound insulation properties (great for stairs) as well a whole pile of other benefits.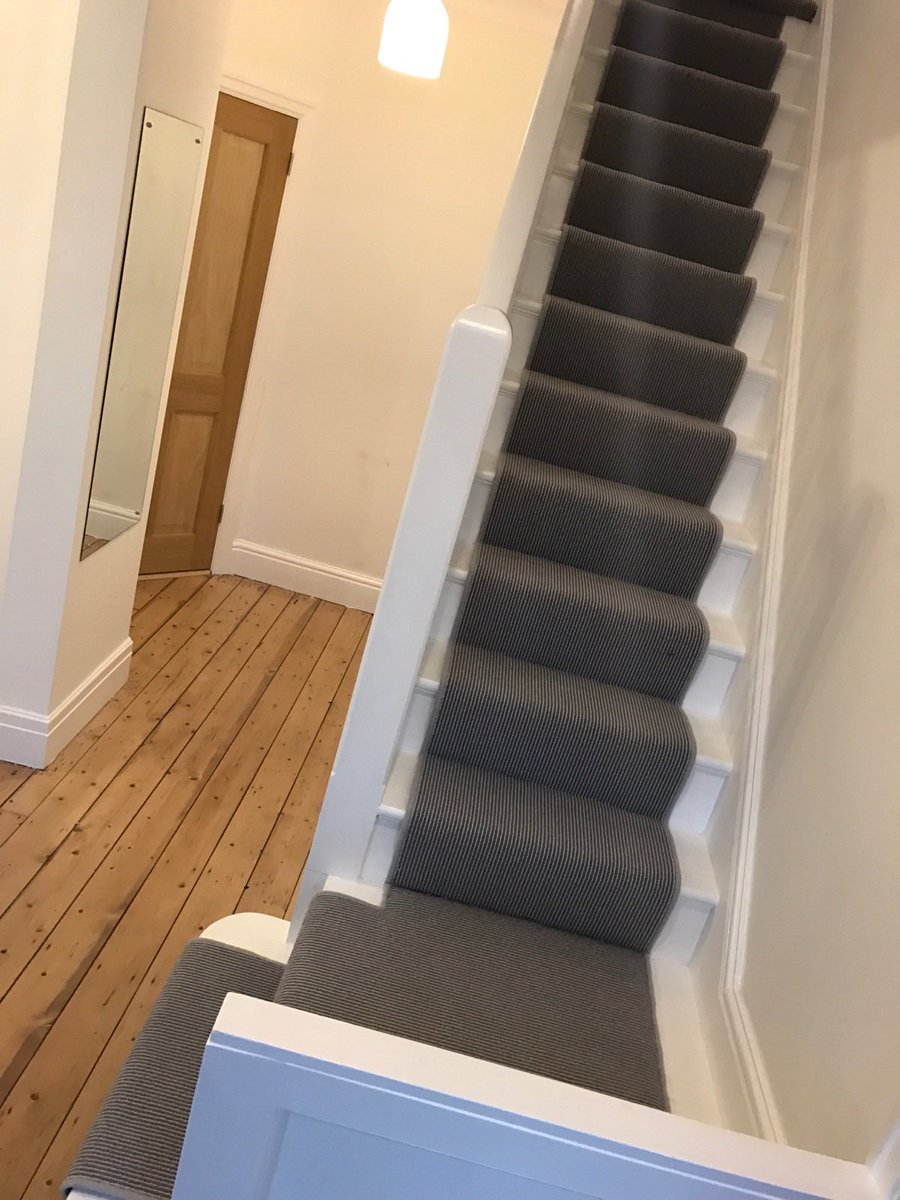 Showing: 100% wool stair runner from Alternative Flooring with whipped edges, installed to stairs at a home in Altrincham. As practical as it is stylish – the runner makes the perfect finish to these wooden stairs.

Protecting the edges
A question we are often asked by customers looking at stair runners, is how do we prevent the edges of the runner from fraying over time.
For runners that are made from cuts of carpet, we send the final length away to have the edges whipped. Whipping involves binding the carpet edges to make them look neat and ultimately stop the edges from fraying.
Alternative Flooring have a range of purpose-designed stair runners available, made from their most popular carpets - available in standard 66cm widths, they come with self-coloured whipped edges. For something a little more exciting, they have a Quirky range of runners too, which come in a choice of bright, bold patterns, bigger widths at 69cm and a high-quality selvedge finish.



Showing: Alternative Flooring skinny black runner from the Quirky B collection we fit to a three-level staircase at a home in Knutsford.

Decorate with stair rods
If you have opted for a stair runner, you can go a step further and decorate it with stair rods for an extra touch of luxury. Available in a choice of colours, materials and finishes, stair rods in steel, aluminium, brass or even wood, can complement your interior.
Some carpet and flooring businesses recommend stair rods to help keep stair runners in place, but as we do not use glue or adhesives to lay our carpets or runners, that benefit doesn't really apply. We staple down all our stair runners, so any stair rods used with them are purely for aesthetic, decorative detail. It's down to you as the homeowner whether you want that finish – a lot of the time we find people want stair rods but once their runner is in place, it looks fabulous enough without them.



Showing: Crucial Trading 100% wool runner finished with decorative steel stair rods, we installed to a home in Nantwich.

Whether you're replacing a runner or having one installed for the first time, visit one of our showrooms to look at the many options we have available across styles, colours and budget.
And we offer a free on-site survey, whether it's a runner for your stairs or you want to incorporate your landing and hallway with the same floorcovering - simply contact us here.

---