Reclaimed wood for the ultimate sustainable floor
Reclaimed engineered wood floors look amazing, are sustainable and have extra strength thanks to their age. We love them here at Flooring 4 You. So much so we now have samples of reclaimed wood floors from the Woodworks by Ted Todd collection at our Knutsford showroom.
Read on to find out more about the benefits of reclaimed wood floors and why they make a great choice in homes.

There's nothing like reclaimed
A reclaimed wood floor is quite literally unique, being impossible to replicate. Each plank hides a multitude of surprises and features plenty of charm, thanks to the details of their past life where the wood has been worn and weathered in its original environment. You might find rusty nail holes, weather cracks, beautiful patinas or corroded smooth sections which have formed from continuous touching of the wood. Looking at and touching the wood, you can revel in its provenance.
Ted Todd showcase their craft and passion for wood by restoring these historical woods into floors. Their craftsmen in Cheshire spend hours drawing out the character of the woods by hand, to emphasise the grain, undulating textures and other extraordinary details. For a floor with a big personality and even bigger history to match, reclaimed wood is one to choose.


Showing: an example of the Bodega plank in the Bold Surfaces, Woodworks by Ted Todd collection. The 3- layer 15mm engineered planks with warm, honey tones and depth of colour were once part of oak casks, holding premium spirits. They have now been expertly brought back to life as planks for flooring.

Floors with provenance
Every reclaimed engineered floor can tell a story. They have a past, some going as far back as centuries, which reflects in the ageing process of the wood and the environment in which they were first used. And what's great about the reclaimed woods in the Woodworks by Ted Todd collection, is that the origins of each plank are shared.
Take for example the Heyday plank which we recently installed at a home in Knutsford. Heyday is an oak with a very rustic look. No surprise when you come to learn it was once used to build 19th century farm carts. The 2-ply engineered plank has a weathered surface texture and contrasts well against contemporary spaces in homes. When working on the reclaimed woods, the craftsman at Ted Todd focus on the characterful markings which have formed over time. These are accentuated to show an appreciation for what the wood was once, where it once lived and what it was once used for. With reclaimed wood floors, you are literally bringing a piece of history into your home.


Showing: one of the reclaimed Heyday planks we found when installing a customer's floor. Somebody had carved 1838 into the original wood, which has been restored into one of the engineered flooring planks.

Recycled materials
With sustainability high on the agenda in home interiors this season, reclaimed wood ticks all the boxes when it comes to sustainability. Many furnishing and homewares businesses will be looking to use re-cycled materials, so we can expect to see more sustainable product sourcing. By re-using wood rather than seeing it go to waste, Ted Todd deliver the ultimate sustainable floors. Another example of bringing an old wood back to the life, is Hip in the Bold Surfaces collection. This 20mm solid wood plank was once the pine flooring in Victorian homes, being walked on by generations. The reclaimed pine Victorian floorboards have an undulating surface texture on which you can still see the blackened nail holes.
Choosing a reclaimed wood floor, you don't just end up with a floor bursting with character and heritage, but you can delight in knowing it's one of the most sustainable you could possible find.


Showing the Hip plank in the Bold Surfaces, Woodworks by Ted Todd collection. The planks have a distressed paint finish and are available in 2-3m lengths.

Don't doubt its strength
Sometimes we think we have to have something new, because it will last longer. But that's not always the case, certainly not with reclaimed wood floors anyway. You might not know, but reclaimed wood floors are less likely to warp and change shape thanks to the lengthy natural ageing process they've already gone through. Being exposed to so much change in temperature while in their original state, all the expanding and contracting of the wood has already been done. Your floor will be stronger and even more resilient than any floor made from new wood. And with a purchase and installation from us of any floor in the Woodworks by Ted Todd collection, you can expect a 25-year product warranty for extra peace of mind.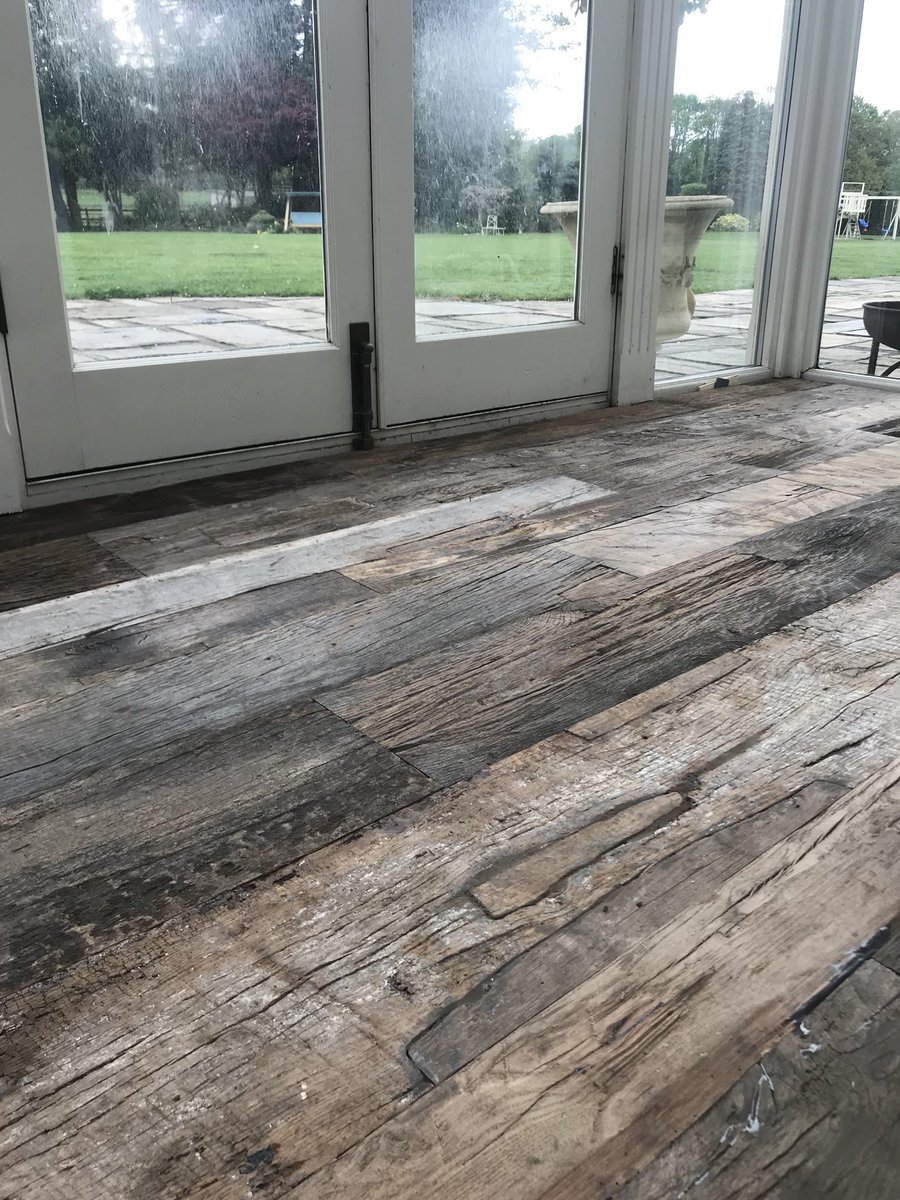 Showing: our professional installers part-way through a reclaimed wood flooring installation at a home in Knutsford. This is the Heyday plank in the Bold Surfaces collection from Woodworks by Ted Todd.

To see samples of reclaimed wood flooring, and floors in the Woodworks by Ted Todd collection, visit our Knutsford flooring showroom where our professional flooring staff can you talk you through styles and prices. Or, if you have already seen a Ted Todd wood floor you would like, and need an estimate for installation, then contact us to book a free appointment today!
---