Quick-Step Flooring Platinum pedigree
We've been supplying and installing Quick-Step flooring to homes and businesses for a long time now, since our first showroom opened back in 2010. Today we are proud to be one of Quick-Step's biggest retail partners, stocking the largest range of samples from their diverse collection of laminate, hardwood and design vinyl flooring, in our showrooms across Cheshire.


We're Platinum partners
Our years of experience working with Quick-Step flooring products and accessories have earned us Platinum Partner status. Throughout this time, we have invested heavily in product samples and now lead the way with one of the largest collections of the flooring available in our shops. At our Knutsford Design Centre for example, we have the biggest range of Quick-Step flooring samples in the country! Yes, over 13 metres of samples to browse across the laminate, hardwood parquet and luxury vinyl Livyn ranges. Our Bowdon showroom has the complete, current range of Quick-Step laminate flooring samples with some of the hardwood and vinyl flooring on display too. But at all of our shops, you can talk to our knowledgeable staff about the most suitable floor for your home or business, and budget.

Why do we like Quick-Step?
The choice available in the Quick-Step laminate flooring range alone is amazing – there's hundreds of colours to choose from, planks in a selection of sizes, different authentic wood effect finishes and plenty of options for a modern or traditional interior, whatever the room or the budget.
As experienced flooring installers, we always find Quick-Step laminate a pleasure to fit thanks to its Uniclic system, which allows the planks to click together without the need for glue. And it's so easy to look after and keep clean – it's quite simply hassle-free and the ideal complement to our busy lifestyles.

We're official Master Installers too!

A lot of customers are happy to buy Quick-Step flooring products and either install them themselves, or use their joiner, contractor or even brother-in-law to do the job! It's no secret that Quick-Step flooring is easy to fit, but there are benefits to having a professional installation by certified Quick-Step installers, installers like ourselves who can display the official Quick-Step 'Master Installer' logo. The benefits of using a Master Installer include:
- Your installation comes with a free two-year installation warranty.
- You will always get the very best results, entrusting your floor to a Master Installer who not only knows their trade but has been certified to install the flooring you want.
- You can be sure the extra details are done right too – laying flooring to stairs, fixing skirting boards and finishing profiles, all the complicated elements.
- Enjoy total peace of mind by letting the professional do the job for you.

Quality for years to come
You know a product is good quality when the manufacturer gives you a 25-year warranty, which is the case with Quick-Step laminate floors. They take floor protection seriously too, giving the laminate flooring an ultra-effective Scratch Guard, making it up to ten times more scratch-resistant. While the superior high-density fibre board (HDF) at the core gives excellent impact resistance, protecting the floor against damage from falling objects.

True diversity
With so much choice now available, all rooms of your home can be considered for laminate flooring, even the bathroom! Quick-Step's Impressive and Majestic ranges come with a water-repellent 'HydroSeal' coating which eliminates moisture seepage and allows water droplets on the floor surface to be simply wiped away.
But it's not just laminate – Quick-Step has a range of engineered wood floors that are on-trend, quick and easy to install using the Uniclic Multifit click system and come with a lifetime warranty. While the luxury vinyl floors in the Livyn range use the same fast and easy patented system for installation, they also come with Stain Guard and Scratch Guard technology to keep your vinyl floors scratch, dirt and stain free. And don't forget – being Platinum Partners, we have all the Quick-Step samples at our Knutsford Design Centre, with select ranges on display at our Bowdon and Timperley showrooms!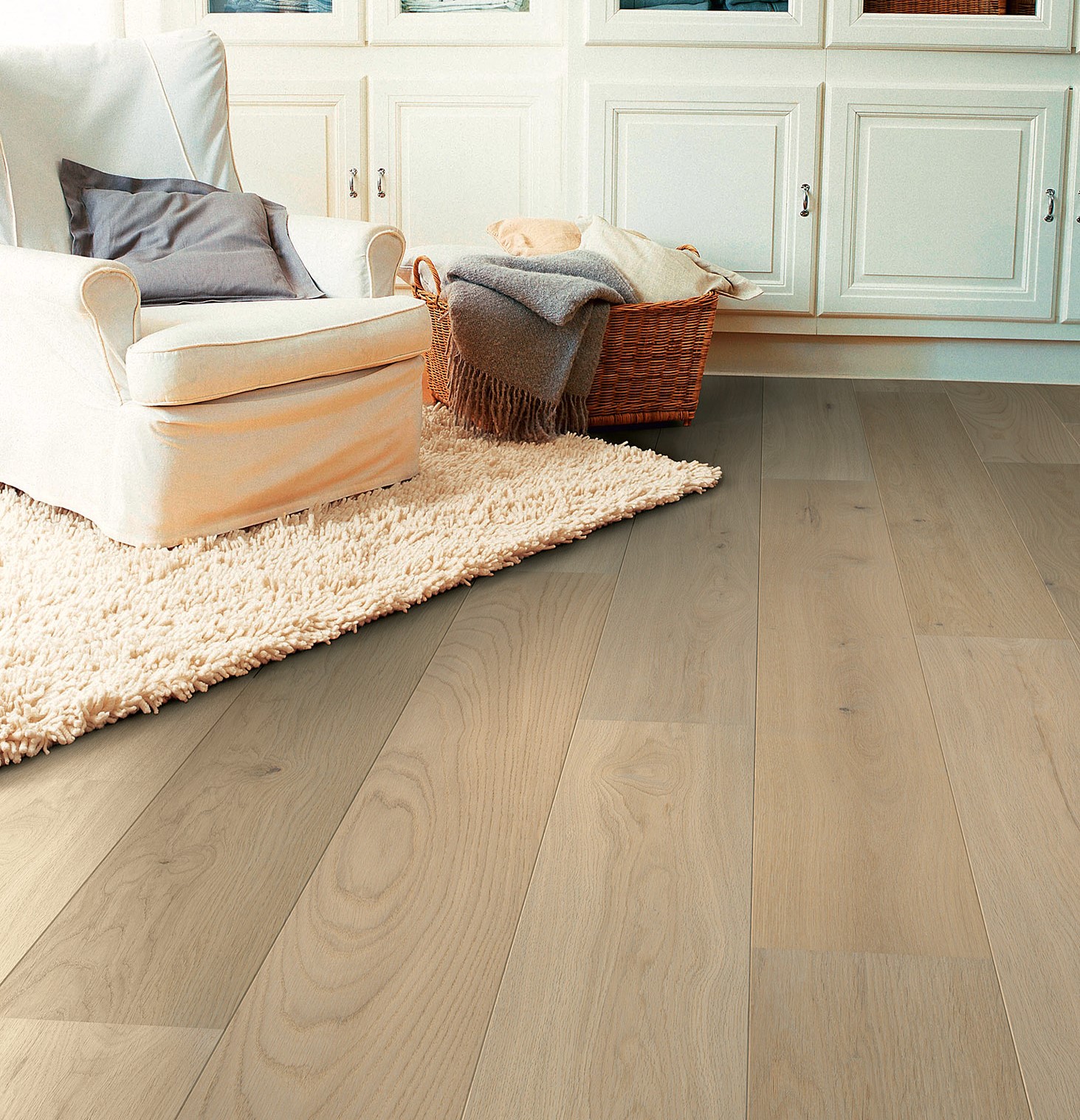 Come and talk Quick-Step flooring with us at our showrooms while browsing samples or contact us as Quick-Step Platinum Partners and Master Installers, to arrange a free, no-obligation survey for laminate, hardwood or luxury vinyl flooring. Prices start from £12.49m² and if you already have Quick-Step flooring at home, you can stock up on official cleaning products with us too!
---