Quick-Step do engineered hardwood floors, too!
Yes, you hear the name Quick-Step and you think immediately of laminate flooring. But Quick-Step, one of the world's biggest flooring manufacturers also makes engineered hardwood floors in a choice of wood types and surface effects, in many shapes and colours.

It's not that type of parquet
Quick-Step refer to their hardwood collection as Parquet flooring, but it's not the parquet flooring you're probably thinking of (as in the flooring style made from small blocks or strips of wood that are laid to create a regular and geometric pattern). Quick-Step's Parquet flooring is quite simply their range of engineered wood floors, made of three layers of solid wood, covered with a protective finish.
There are different collections across the Quick-Step Parquet range such as Palazzo, beautifully proportioned, long and wide oak planks that feature a subtle V-groove on the longest side of each plank.


Showing: Quick-Step PAL1341, pure oak matt planks in the Palazzo collection.

What else is in the Parquet flooring range?
There's a wood floor for every type of interior and room style, from the smaller planks of Castello to the extra-long, extra wide planks of Massimo. Compact is a collection with a high density 12.5mm core, making it a great choice for renovation projects and underfloor heating systems. For those wanting the reclaimed look, Variano features aged edges and cracked knots and a floor with a unique character while planks in the Villa collection are long with a multi-strip pattern, bringing extra length and depth to rooms.


Showing: VIL1368 Quick-Step Villa walnut satin 3-strip.


Showing: Quick-Step MAS3564 Massimo Dark Chocolate Oak extra matt oiled with planks 240cm long by 26cm wide.


Showing: Quick-Step Variano Royal Grey Oak oiled hardwood floor with that unique reclaimed look, featuring aesthetically pleasing cracks and scratches.

Why engineered?
Three layers of wood make up the Quick-Step wood floors, covered with a protective finish so you end up with a floor that's stable and lasts - engineered wood floors are significantly less sensitive to contracting and expanding. Depending on the floor you choose from Quick-Step's parquet range, the top or finishing layer of the floor is made of either seven layers of UV-cured, water-based lacquer which protects your floor from scratches, stains and wear as well as making it easier to clean or two layers of quality oil to help your floor age gracefully, while giving it an extra matt, natural look.


Showing: Quick-Step IMP1628 Imperio Rough Grey Oak oiled planks.


Showing: Quick-Step CAS1357S Castello Merbau Satin planks with lacquered finish.

How does it compare on price?
We're talking high quality, luxury wood flooring so prices of the parquet range reflect that, starting from £52.99m². But one important thing to remember is that unlike other engineered wood floor manufacturers, Quick-Step parquet floors feature Quick-Step's market-leading Uniclic Multifit system which means no need for adhesives, and a quicker overall installation, ultimately helping overall project costs.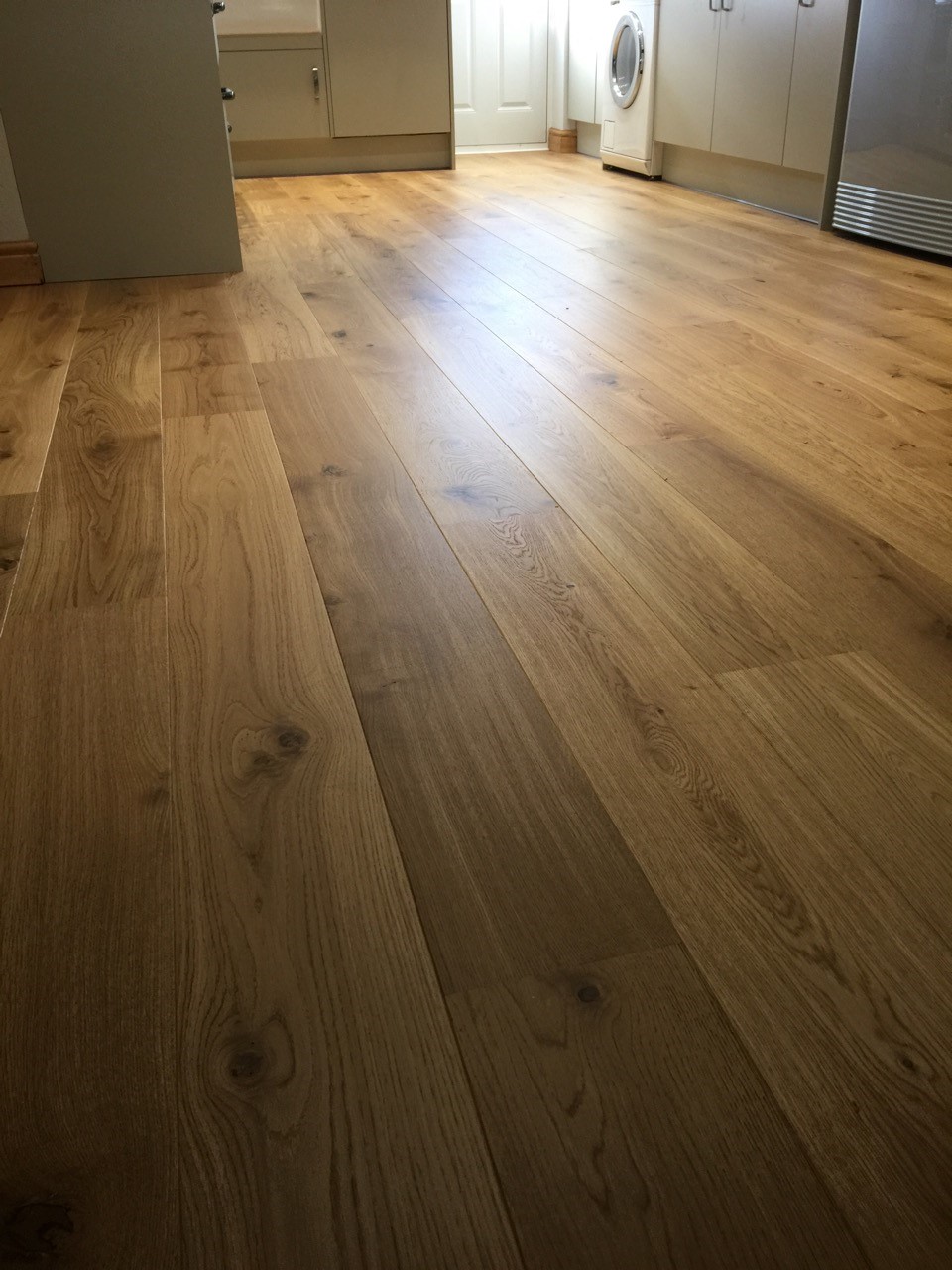 Showing: Quick-Step parquet PAL 1338 Palazzo Natural Heritage Oak, one of our bestsellers, fitted to a kitchen in Lymm.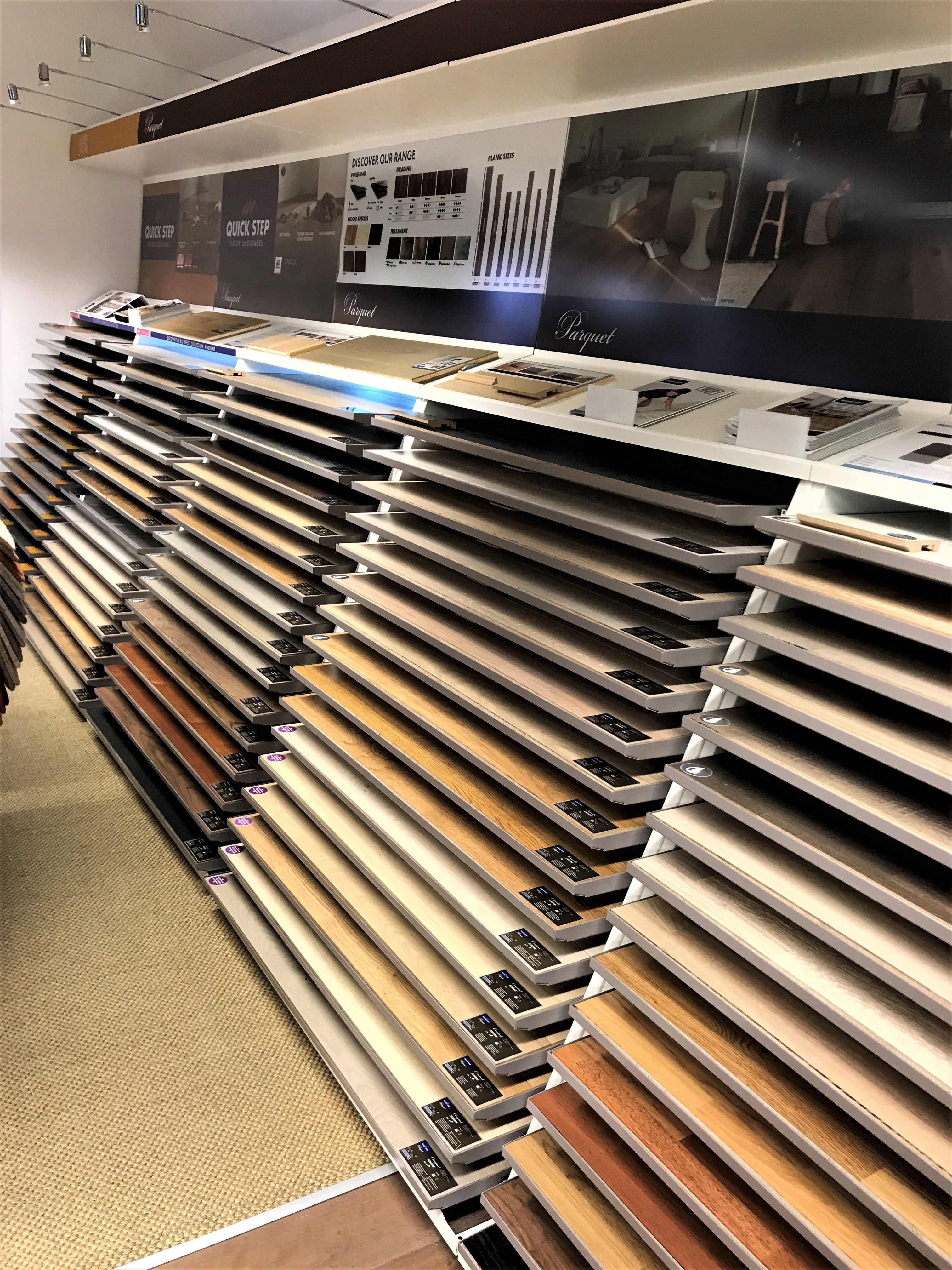 Our Knutsford showroom has one of the largest displays of Quick-Step parquet flooring in the North West, so if you're considering engineered hardwood flooring for your home, call in to browse samples or give us a call for a free, no obligation survey.

---