November Flooring Projects
As the year comes to an end and we start to think home improvements for 2021, we look back at our November flooring projects. The lockdown didn't stop us from installing carpets and flooring, which we've been doing safely for our customers over the last few weeks. And you never know – some of what we've done might inspire your next flooring project!

Smashing stair runners
They continue to look fabulous in homes, making an eye-catching centrepiece for any hallway. Stairs do not need to be dull and stair runners prove just that. We've worked on a couple of stairway projects recently, which have seen customers opt for a blend of fully fitted carpet and stair runner. Why do this? Well, in the case of a double staircase, it's the very bottom of the stairs in the hallway which you want to show off in all their glory. Once you get to the first main landing, anything from there on can be fully fitted carpet for practicality purposes.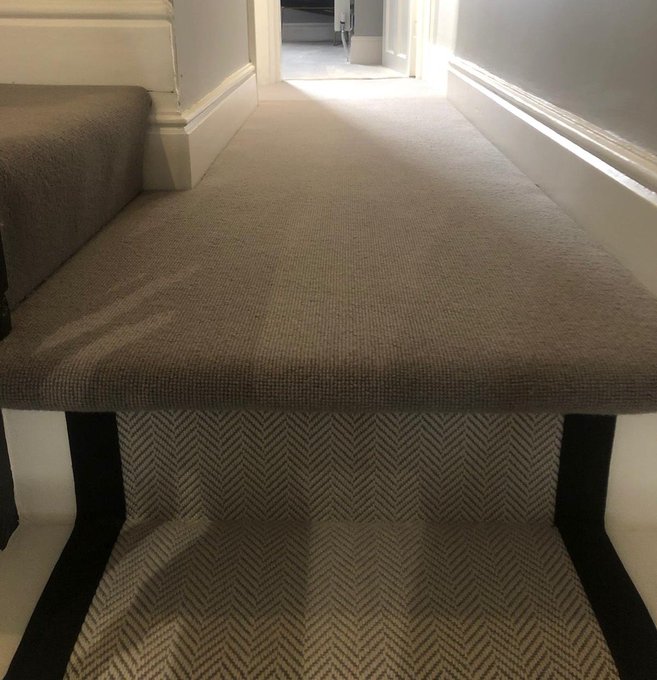 Here is a stair runner and fully fitted carpet combination at a home in Altrincham. The customer chose two styles from Alternative Flooring. The stair runner is the Wool Iconic Fine Herringbone carpet in colour Coburn, which was finished with a black cotton border. To the landings and rest of the stairs, the Wool Cord carpet was chosen in colour Smoke to complement the stair runner colour.

The fact we have such a great choice of carpets from many leading manufacturers helps when it comes to designing something unique for your home. Another of the stairs and landings we did where a mix of runner and fully fitted carpet was chosen, saw products chosen from two different manufacturers.


At this home in Prestbury, Cheshire the customer chose a stair runner from Fibre Flooring. The 100% wool runner comes from the Paragon collection with its wonderful diamond pattern, seen here in colour Regent. And the runner's border is faux cotton from Fibre Flooring in colour Mole. As you can see in the second picture, the runner was complemented by the addition of fully fitted carpet to the landing. An 80/20 wool mix carpet was chosen here, being both super comfortable and very hardwearing. It's the new Quintessential Twist collection from Hugh Mackay Carpets, in colour Ocean Mist.

Herringbone hallways
Doing something exciting with flooring in hallways has been a big thing over the last year or so. And it's still the case with patterns. The herringbone parquet pattern especially, continues to remain a popular choice in homes. Whether you like an LVT or an engineered wood, if you prefer a modern grey colour to a more traditional oak colour, we have many herringbone options to suit many budgets.


At the same home with the Fibre Flooring stair runner, we first started work on the hallway floor. An impressive entrance commands an impressive floor, and the Husk Herringbone in the Warehouse collection from Ted Todd delivers just that. It has a beautiful mid-brown tone with dark grain details running through the parquet planks, which work perfectly next to the stairs and the style of the home.



Another recent hallway installation we completed in a herringbone pattern, was this Amtico LVT floor at a home in Appleton near Warrington. In fact, we did the carpet for the stairs which you can also see in the picture, but we'll come back to that! With the LVT, the customer chose Featured Oak in the Amtico Spacia collection with its authentic grain and oak tones. As well as the parquet in this colour and style for the hallway, we went on to lay the same floor in longer planks throughout other areas of thew downstairs. Such is the beauty of Amtico, you can carry the same style floor across different rooms, in different laying patterns.


The carpet seen on the stairs on the image above is a faux silk from ITC Natural Luxury Flooring and is in fact one of the lowest price faux silk carpets we have available here at Flooring 4 You. It's the Cabernet carpet in colour Phantom, a 100% faux silk carpet offering lots of comfort underfoot, but which also comes with a heavy domestic rating, hence it is a great choice for stairs. Faux silk carpets are still popular – they are incredibly soft, they look fabulous, and are practical too. The Cabernet collection which comes in a choice of neutral colours, is available from us from £35.99m2 – a great price for this style of carpet.

Wonderful wools for bedrooms
There are many benefits to a pure wool carpet. But to summarise quickly, wool carpets can help regulate temperature - they are warm in Winter and cool in Summer, they are flame retardant, and of course they are 100% natural, which matters in today's world. We stock many styles, designs, and thicknesses from the leading wool carpet manufacturers. And lately, it's our wool carpets which have been the more popular choice for bedrooms.


We headed up to the Lake District for this installation of the Rustica wool carpet from Crucial Trading. It's a carpet which is far more luxurious than it sounds, having a lovely thick pile and large loop. The Rustica element comes from the subtle colour flecks in the carpet. If you are looking for a high-quality, super cosy wool carpet for your home, we currently have the Rustica Pale Grey carpet on a special offer with 50% off the 5m width, reduced to £48m2!


Early in the month we installed another of Crucial Trading's wool carpets to this newly designed bedroom at a home in Altrincham. The carpet is the Storm collection, which is a great no-fuss choice of loop wool carpet. It's functional with plenty of resilience for busy areas, but still lovely and soft, so ideal for bedrooms. This customer opted for colour Slate, which works perfectly in more modern spaces.

Kitchen floors
We spend a lot of time in our kitchens, and in many homes, they are the hub the house, the place where everyone comes together each day. Many kitchens lead to the outdoors via either patio or bi-fold doors. So, kitchen flooring needs to be super practical as much as look great. The last few weeks, we've done some interesting installations in kitchens across Cheshire. The most popular choice of floor being LVT.
You can't go wrong with a wood-effect LVT plank and depending on your kitchen style, you can go for neutral tones or a warmer colour wood. Planks also work with larger open plan spaces, where your kitchen area runs through to another room and you want your flooring to flow seamlessly.


Much like these recent installations where on the left you can see Amtico Form Barrel Oak Smoke installed to a new kitchen in Bowdon. This LVT floor with its grey tones has a Nordic-inspired effect and works very well in more contemporary rooms. On the right, the customer chose Karndean Van Gogh French Oak for their kitchen in Knutsford. The French Oak wood effect LVT is soft and gentle with light blond tones, making it a versatile choice of floor for modern or even traditional environments.

And, if you want a kitchen that is truly bespoke, we can help bring your ideas to life!


We worked with a customer in Hale to create this bespoke floor using Amtico Signature LVT. The stone effect LVT tile has been complemented with extra design details. You can see the diamond border frames a chequered floor style dining area, creating a fantastic centrepiece for the room.

If you feel inspired by any of the flooring products or designs you have seen here, then contact us to get your flooring project started today. We are taking estimates now for 2021 carpet and flooring fitting.
Our Bowdon and Knutsford showrooms are back open from Thursday 3rd December, with the necessary Covid-19 safety measures in place, so you can come and browse flooring and carpet options.





---