New Quick-Step Signature laminate floors
We're really excited about the new Quick-Step Signature laminate floors. Thanks to the latest in research, technology and design, there are some fantastic new styles to transform your home. We can't wait to start installing some of these new laminates for our customers.
Read on to find out more about the new laminate styles and what's available.

Signature Collection – refined laminate flooring
The stand-out thing about the new Signature Collection of laminate is its finite attention to detail. These laminates are quite possibly the closest thing to real wood you'll see. The engineering of the boards has been refined to the very last detail, which gives them a true 'wood floor look'. And, much like the popular Impressive and Majestic boards, the laminates in the Signature Collection are all water-resistant. They can be installed in rooms across the whole home, including kitchens and bathrooms.


Showing: Quick-Step Signature SIG4767 Cracked Oak Natural. This laminate board was inspired by planks found in old train wagons, which were sanded down to reveal the dark knots and cracks in the wood beneath. To replicate this as a laminate in true reclaimed wood style, precise, innovative pressing technology was used to create the realistic sharp edges along the cracks. The result is a laminate with exceptional attention to detail, that you'd be forgiven for thinking is actually real wood.

Style your interior with the colours in the Signature Collection
There are eighteen colours available in the new Signature Collection; everything from deep dark shades such as Waxed Oak Brown and Painted Oak Black, to the very light tones of Painted Oak White and Soft Patina Oak. The extremities of colour, from very dark to very light have been brought into the collection for good reason. This laminate collection has been designed with interior style in mind. This is the first time we have seen a laminate flooring collection where colours can be mixed and matched to create a unique floor to suit your space. The planks in the Signature collection are the same length as those in the Impressive at 138cm, however they are much wider at 21.2cm. They also have a longer pattern repeat, which means there are fewer planks that are identical copies of each other. You can expect nine unique boards in this new collection, compared to six or seven across the other laminate ranges.


Showing: Quick-Step Signature SIG4754 Painted Oak Rose, SIG4748 Soft Patina Oak and SIG4753 Painted Oak White with their soft, muted tones laid side by side for something a little different. The Signature Collection has a good choice of colours that allows you to experiment with the design of your floor.

The many benefits of Signature
You get a lot for your money with the Signature Collection, there's no doubt about that. The laminate planks are all 100% waterproof, so if liquid is spilled, it won't be absorbed by the floor and can be easily mopped or wiped up. The HydroSeal water-resistant laminate surface has anti-static applied, which prevents dirt and hairs from nestling into the bevels, makes cleaning the floors even easier. The Signature planks are a substantial 9mm thick and have good sized width at 21.2cm. The level of detail that's gone into making each of the planks is what sets this collection apart from other laminates. The painted oak styles look like they've been painted. The waxed oak planks look like they've been waxed. The bevels that feature on the planks are more natural. The technology and engineering used to make these laminates is clear when you see how realistic they are compared to real wood.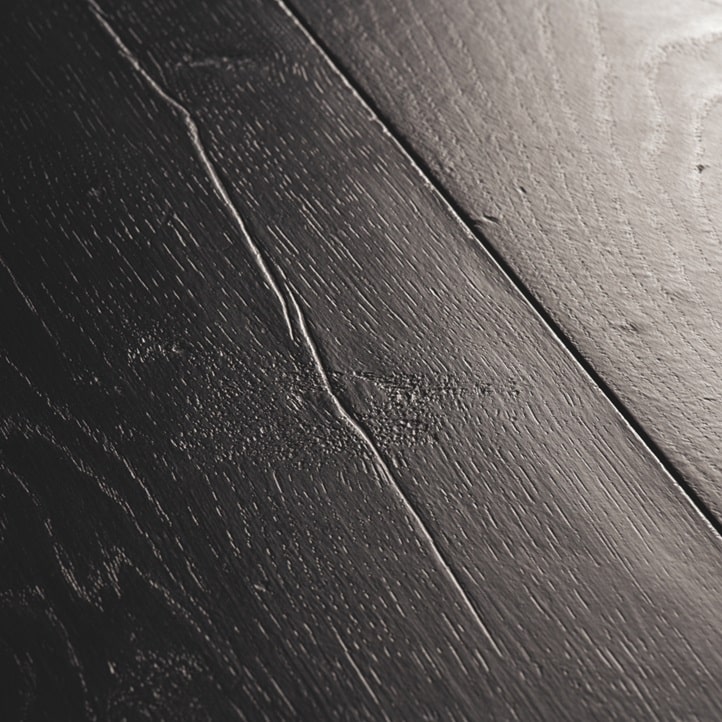 Showing: A close up of Quick-Step Signature SIG4755 Painted Oak Black with its unprecedented attention to detail, making it look as real as real wood.

Impressive Patterns laminate flooring
Quick-Step's Impressive laminate flooring range has always been one of our bestsellers. That's much to do with the good choice of colours, it being water-resistant, excellent quality and a good value for money price per square metre. The fact this collection has now been extended to include patterns, is fantastic news. And even more so if you're looking to bring the on-trend parquet style flooring into your home. In flooring, we often find these patterns come mostly by way of the more expensive real wood, engineered wood or LVT options. But now there's the option to get these patterns in an affordable, laminate panel.
With the Impressive Patterns, there are two options. The Chevron Oak which can be laid to a Chevron or Diamond pattern, and Royal Oak which is inspired by real-wood parquet with its regal pattern. Like the popular Impressive laminate planks, the Impressive Patterns laminate panels are all waterproof!


Showing: Quick-Step Impressive Patterns IPA4162 Chevron Oak Brown installed in the Diamond pattern.

How Impressive Patterns are installed
The installation of the panels in the Patterns collection is done using the Quick-Step Uniclic click system, much like all the other laminates. Of course, the panels are shaped differently at 1200mm length x 396mm width and the pattern needs to be considered during installation. Other than that, it's a straightforward process. But, if you're not sure about tackling it alone or your tradesmen don't lay floors, then contact us for a free estimate for laminate supply and installation.


Showing: Quick-Step Impressive Patterns IPA4145 Royal Dark Brown with its 4 genuine bevels and pattern that's reminiscent of those in luxurious homes and palaces.

All these new laminate floors from Quick-Step come with matching finishing profiles and are suitable for use with underfloor heating. Buy a Quick-Step floor and you will receive 25 years warranty on your new floor. Plus, if you have your floor installed by us at Flooring 4 You, as we're Quick-Step Master Installers, you will get an additional 2-year installation warranty.

Love these new Quick-Step laminate floor styles? Head to one of our flooring showrooms in Bowdon or Knutsford to see samples and pick up a brochure. We definitely recommend you see the new Signature Collection to appreciate its detail and likeness to real wood.
Once you're ready to get your new flooring started, or keen to get an idea on costs for your next interior project, contact us for a free laminate flooring estimate.
---