New Carpets at our Knutsford Flooring Showroom
Over the last few months, we've introduced lots of new carpet and rug products – even underlay! We're always making sure we have the newest ranges on display and the best flooring and carpet products for our customers. So, here are some of the new products you can find at our Knutsford flooring showroom.
Plushwalk Underlay
For years we have used Cloud 9 underlay as it has always been not only one of the best on the market, but for a long time, the only option. But as with everything, the last few years have seen a few new underlay players emerge. And one of these is Wilsons Underlay with their Plushwalk range. In our opinion it offers a more superior specification with its memory foam construction and incorporated damp-proof membrane (DPM). And with it coming in a 12mm thickness (10mm and 8mm thicknesses are also available), it offers superior comfort underfoot as well as improved heat loss prevention and sound insulation properties.
The damp proof element and the fact it bounces back better than other underlays means not only longer lasting carpets, but you can prevent the marks left by furniture in the carpet too. Plushwalk costs a little more than Cloud 9 but that's to be expected with a better specification. And we still offer Cloud 9, should customers prefer it.


Here's the Plushwalk 12mm underlay we recently installed beneath a new carpet installation in Cheshire.
Kaleen by The Woven Edge
This is a brand-new range of carpets we have welcomed to our Knutsford showroom from a boutique carpet-making outfit. The collection is a sophisticated one which sticks to a versatile, neutral colour palette. And you can get it as broadloom carpet or have products cut to size for bespoke stair runners or rugs. We like it as it brings some different, modern designs to the table in a choice of wools. There are four flatweave options, each coming in a choice of three colours. And then there are four hand-loomed luxury wool pile options, which again come in a choice of three colours.
It's worth taking a look at The Woven Edge when you next come into Knutsford, especially if you are after a high-quality wool carpet in a sophisticated design, in neutral tones.


Here are the samples of Kaleen by The Woven Edge which we have available in Knutsford.
The Collection from Grosvenor Wilton
Another new offering for our customers is The Collection from the one of the UK's oldest and most distinguished carpet manufacturers: Grosvenor Wilton. Today the company is owned by Brockway Carpets, another carpet business with a strong track record in producing high-quality, natural floorcovering products, and who we have worked with for many years.
With The Collection from Grosvenor Wilton, colour and texture has been put front and centre of the designs. And we like how you can co-ordinate between the patterned options, with the plain colours available.


You can see in the samples above, The Regatta textured stripes and zig zags to the top which can be co-ordinated with plain colours from The High Tea and Gala ranges, as shown in the bottom of the picture. This is an ideal combination if you want a stair runner or full width carpet on the stairs to blend into a plain colour on the landing.
This is another collection you can find here in our Knutsford showroom and which you can play with on one of our design tables to compare colours and textures.
Jacaranda Daiya and Desire
The beautiful product range from Jacaranda Carpets has been extended with the addition of two new handwoven 100% natural, undyed wool carpets. Both come in a boucle weave, and in a choice of natural colours which Jacaranda is renowned for.
The first is Daiya which features symmetrical rows of soft dense loops for the ultimate in texture, warmth, and softness. At approximately 10mm thick, it's suitable for all rooms of the home, even the stairs. Although if you were to have it for a home office, a castor mat would need to be used. And the other is Desuri which has an elegant fine loop texture that's effortlessly chic. It is a bit thicker at approximately 13mm and is suitable for all areas of the home in the same way the Daiya is.


We have the Daiya and Desuri new Jacaranda carpets available at a special offer price until the end of August 2023. You can get the Daiya carpet for £59.99m2 and the Desuri carpet for £64.99m2 (offer ends 31st August 2023).
Ulster Carpets
Earlier on in the year, we welcomed another new brand of carpets to our Knutsford showroom. We now have an Ulster Carpets stand on display in the shop with a great selection of their woven Axminster collections. We've got the Country House Collection made from 80% wool and 20% nylon, which comes in multiple widths and a choice of classic colours. Or how about the stunning Watercolours Collection, another 80% wool and 20% nylon blend, this time featuring 12 sensational colours reminiscent of earth, sea and sky, with designs inspired by the artist JMW Turner.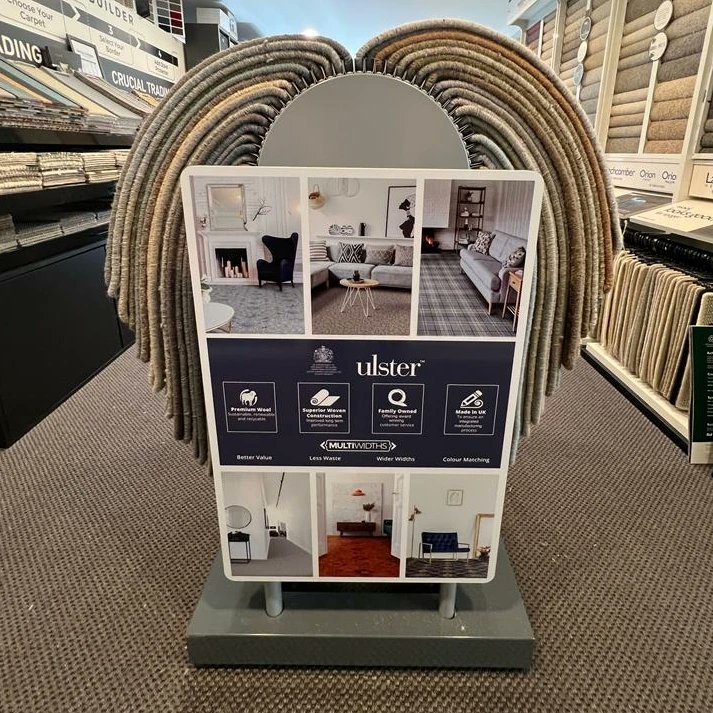 Here is our Ulster Carpets stand which you can see when looking for carpets in our Knutsford showroom and to the right is a glimpse of one of the options in the woven Axminster Watercolours Collection.
These are just some of the new carpet products we have available, most of which can be cut to size to make stair runners or rugs.
And being a leading stockist of many of the biggest names in carpets and floors, we are always adding new colours or patterns to the collections we have, when suppliers launch them.
So, if you are working on a new room makeover, home renovation, or interiors project, then make sure to visit us on King Street in Knutsford. You can browse designs, colours and patterns and discuss the best carpet for your space.
---