New Amtico Spacia Styles for 2022
Amtico have given their Spacia LVT collection a refresh for 2022. This versatile vinyl which focuses on simplicity and on-trend, sought-after styles, just got even better.
From woods to stones, take a look at what's new in the Amtico Spacia collection. Plus, find out what we're most excited about in this latest update.

Practical woods which wow
The overhaul of the choice of woods in the Spacia collection sees the arrival of lighter tones, more natural colours and textures, and something different with the Salvaged Timber options.
Amtico have grouped the wood effect LVT styles into categories, which makes it easier to find the right wood effect floor for your space. Here's what they look like.
Golden


To the left is Muted Oak with its soft neutral grain and sandy undertones. You can see the herringbone pattern in the picture, which has been achieved using the full plank at 184 x 1219mm.
Mulled Oak is shown on the right with a traditional wood grain and rich, caramel tones. The picture shows the floor in the small parquet option, laid also to a herringbone pattern.
Both of these styles are great for anyone looking for a classic, traditional oak coloured floor. Whichever you prefer, they both come in small and large parquet options, as well as the full plank size, making them versatile across all different room types and sizes.

Heritage Oaks
Amtico have introduced four new colourways to their Heritage Oak offering. Here, the focus is on replicating authentic natural aged wood floors, in both colour and texture.


The lighter of the four shades comes by way of Granary Oak, seen here on the left with its soft, neutral tones and sandy undertones. Carriage Oak, on the right, is a little warmer and features a lovely natural oak grain, enhanced by the highly realistic surface emboss.
The Heritage Oak styles are only available in the one plank size, much like any real, naturally aged wood floor plank would. The difference here is the texture and the detail to get the woods looking as authentic as possible.

Neutral and Cool
Two very light shades have been introduced to the Spacia collection, perfect for modern open spaces, or for those looking to achieve the Scandi look.


Seen here is Iced Oak, clean and crisp in its style with the white wood featuring refined grey tones and a delicate grain. The picture shows the floor laid to a herringbone pattern in the large parquet option.
And ticking all the neutral LVT floor boxes is Powdered Oak, a modern take on an oak effect floor with its soft, blush hues. It works beautifully across a wide open space, or you can pair it with one of the new Amtico Spacia Stones to create a unique Scandi-inspired scheme.
Both the Iced Oak and Powdered Oak LVTs come in the small and large parquet sizes, as well as the 184 x 1219mm plank size.

Salvaged Timber
The rustic, reclaimed look is very on-trend in flooring and it's now available with Amtico Spacia via the new Salvaged Timber styles. Available in a choice of two colours, these floors have huge variation in both texture and tone across the planks, which is what makes them so eye-catching and authentic.


The picture shows Washed Salvaged Timber, which beautifully blends warm and cool tones to highlight the aged feel of the design. The floor in the picture has been laid using the large parquet option and it's clear to see the variation in the grain between the parquet tiles. The other colour option is Urban Salvaged Timber, with its modern tones – a distinctive grey with white hues in a striking painterly finish.
Both of the reclaimed style floors come in a generous plank sized at 184 x 1219mm, and the large parquet tile at 102 x 457mm. Plus, you can opt for the Boardwalk laying pattern, pairing the standard sized plank with a shorter, narrower one at 102 x 914mm to mimic the look of authentic mismatched, reclaimed floorboards.

More choice of Stone effect LVT with Amtico Spacia
We know that a wood effect LVT isn't always everyone's number one choice, so it's great to see Amtico adding to the stone styles in the Spacia collection. They have gone for a softer range of organic-inspired stones, for subtle detailing and on-trend colour. And there are some exciting new options!
Much like the woods, the stones are grouped by style to make it easier to pinpoint the look you're going for with your floor.

Pale and Cool
For those wanting lighter shades of stone effect floors, Amtico have three lovely new pale, Cotswold-inspired tumbled stones to choose from.


Seen here is the palest of the three, the Stanton stone, with its elegant cream undertones and soft tonal variation. It's been laid to a Fieldstone pattern using the different sized tiles available, and with stripping between the stone tiles to replicate grout.

There are two concrete-inspired stone tiles to choose from, both with warmer soft grey tones to bring that homely feel. These come available in larger tile sizes to help create a seamless look across a much wider, larger space.


Seen here is Villa Concrete, in the large 305 x 457mm tile size with design stripping between the tiles. It looks great against the dark colour of the kitchen units and of course, as all LVT flooring is, it's much warmer underfoot than real stone tiles.
Both the Villa Concrete and the Rialto Concrete stone effect tiles come in a small and large parquet option, so you can have stone effect in herringbone if you wish! They also look fantastic when paired with some of the other new Spacia stones such as the Elemental Terrazzo which you can see further on.

Tones
Amtico have introduced nine understated, soft, pastel-inspired stones in the Tones palette. Inspired by nature and designed to calm, they bring warmth to any home.


This is Peak, a gentle, warm grey stone that is subtle and understated. You can see here that it has been laid to a small parquet herringbone pattern. All of the nine stones in the Tones palette come available in small and large parquet options, as well as four standard tile sizes including an impressive 610 x 914mm tile.

Marble
No LVT stone effect collection would be complete without the addition of some marble-inspired options. And Amtico Spacia has four new marbles to choose from.
White, Grey, Rose, and Black Marble have been added to the Spacia collection. Whether you want classic or modern, these colour choices will bring luxury, elegance, and the look you want for your space.


You can see Rose Marble in the picture with its gentle warmth and fashionable rose hues. All the marbles can be taken to another level of modern by being laid in herringbone parquet, which you can see has been done in the picture using the smaller tile size.
Once again, Amtico have catered for parquet fans! All of these marbles come in the small or large traditional parquet tile options, helping you take your marble effect LVT floor to another level.

Terrazzo
Amtico launch their version of the popular Italian design flooring in LVT floors, and it couldn't come at a better time with Terrazzo being one of the must-have interior trends of the moment. There are eight wonderful colourways to choose from, each one featuring a medley of coloured pearlescent chips.
But you don't have to have a full floor of Terrazzo, you can mix the tiles with other Amtico Spacia stones, such as the softer pastels of the Tones to create your own unique floor. We have all the samples of the new Amtico Spacia products at our showrooms, so you can compare and contrast, mix and match, and take home swatches until you get your floor just right.


Seen here is the Gibson Terrazzo LVT floor with subtle shiny pieces gently accenting the light base. All the Terrazzo vinyl tiles come in two tile sizes: 305 x 305mm and 457 x 457mm.

Elemental Terrazzo
And to complete the new Stones in the Spacia collection is an even bolder choice of on-trend Terrazzo vinyl floor with Elemental Terrazzo. Here the marble effect pieces are bigger, and the clusters of chips are denser for a more dramatic effect. The result is luxurious, and eye-catching!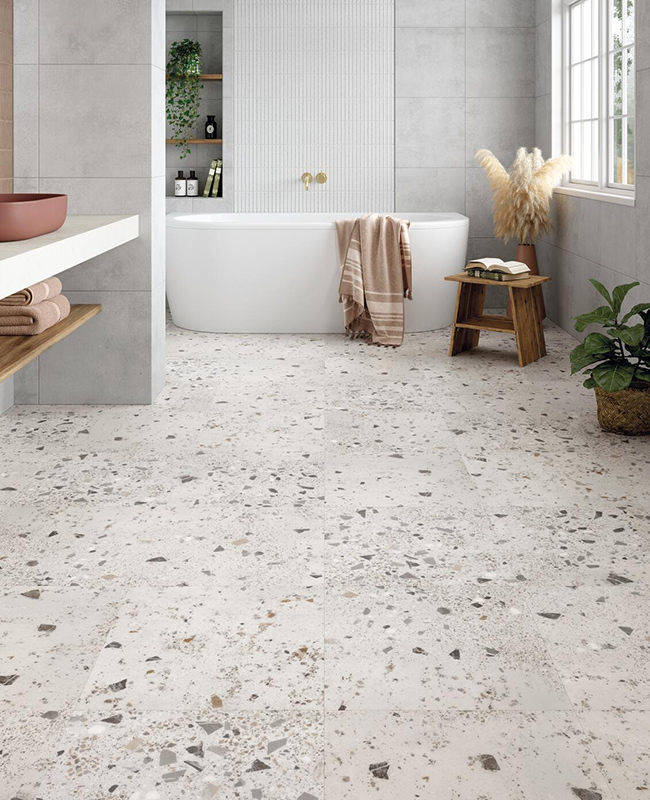 This is Amalfi in the Elemental Terrazzo collection, in a Uniform laying pattern. This particular tile pairs very well with the Amtico Spacia Rialto Concrete. It comes available in two larger tiles sizes: 457 x 457mm and 610 x 914mm.

What do we like most in the new Amtico Spacia collection?
Our top 3 favourite things with the Amtico Spacia collection update have to be…
1. The greater choice of parquet options. With stones as well as woods coming in the small and large parquet sizes, we can see a lot more herringbone going down. We can't wait to create some great floors for our customers using these new Spacia products.
2. The Terrazzo floors. We can see these LVT floors being very popular in Cheshire homes, especially in luxurious bathroom suites and kitchen environments. We're looking forward to helping customers get creative and mix and match different stones to create their very own bespoke floor.
3. The Salvaged Timber woods. This new line-up of LVT wood effect floors brings something different to the table. A lot of people love the reclaimed wood look and to get it in a practical LVT will make a difference. When customers say they want modern, different, and wood effect, we will be showing them the Salvaged Timber options. We also like how Amtico have considered a couple of samples for this particular floor, so people can get a real feel for the grain, tone, and shading.

You can see samples of the new Amtico Spacia LVT collection at both of our flooring showrooms. All the samples are on show in Bowdon, and we have them in our new Knutsford showroom too!
If you would like to browse the new Amtico Spacia in Knutsford, please contact us in advance so we can arrange a time to take you over to the new showroom.
Or if you know the Amtico Spacia floor you want for your home, contact us for a free flooring estimate today.
---