Laminate for bathrooms
Most people would probably steer away from putting a laminate floor in a bathroom – but times and products have changed! We look at some of the options from leading flooring manufacturer Quick-Step and the latest generation of laminate planks they have available, suitable for wet, damp environments.

How laminate is suitable for bathrooms
First, let's look at the technical stuff and find out how it's possible to have laminate for bathroom floors. For most, the thought of peeling and flaking planks is enough to put us off even considering laminate as an option in the bathroom. But, Quick-Step have a solution with some ranges in their laminate flooring collection that feature their innovative 'Hydro-Seal' water-repellent coating. To ensure the floors are fully resistant to water and other liquids, Quick-Step developed a technology that presses the floor's joints into the surface layer during production. The protective, fully waterproof 'Hydro-Seal' finish sits on top and just below the bevel to prevent water from penetrating the floor's joints. The result? A 100% waterproof laminate floor that doesn't need any extra seals or coatings.


Showing: Quick-Step waterproof laminate IM3557 Soft Oak Light Brown in the Impressive collection.

There's an added extra benefit to 'Hydro-Seal' in that it makes the floors ant-static and chemical resistant, so dust and dirt don't cling to the surface and the floors are much easier to keep clean. And, despite all the attention on making the floors waterproof, there's been just as much focus on design. Each plank has a unique, authentic look with surface detailing, grooves and (where there are bevels), bevels that complement the wood grain and colour of the planks. You couldn't ask for more from a laminate floor!


Showing: A close-up of waterproof laminate plank IM3557 from Quick-Step in the Impressive range. You can see the natural grain design and texture across the surface – completely waterproof and suitable for bathroom environments.

The Impressive collection
The original and still up there with the best - Quick-Step's Impressive collection of laminate was the first to revolutionise laminate flooring and come complete with a waterproof coating. And for some time, Impressive was one of the most popular laminate floors we both installed in homes, as well as supplied to customers. At a very reasonable price, with its authentic wood effect detail and being completely waterproof, customers couldn't get enough of the Impressive range. Installations were popular across the whole of the home as much as in kitchens and bathrooms. And today, the Impressive range still goes strong with lots of new, fashionable grey tones to choose from for 2018.


Showing: Quick-Step Impressive IM3559 Patina Classic Oak Light waterproof laminate in a delicate colour with a lovely grain pattern running through.

Something a little more Majestic
If you know about Quick-Step floors, you will know that the Majestic laminate collection features Quick-Step's longest and widest planks. But did you know – they are also waterproof? Yes, the whopping Majestic laminate planks are not only great for larger spaces, but they are also robust enough for damp rooms such as bathrooms and kitchens. We are seeing an increasing interest in Majestic laminate and install quite a lot of it these days. If you have a bathroom with ample length and width and want to emphasise 'space', then Majestic will be the perfect choice.


Showing: Quick-Step Majestic MJ3548 Woodland Oak Brown extra-long, extra-wide, waterproof laminate flooring.

Now Eligna has 'Hydro-Seal' too
We blogged about the Quick-Step Eligna laminate flooring collection earlier in the year as it had been given a huge overhaul for 2018. As well as more colours and styles introduced to the range, Quick-Step also decided to give it, as one of their most popular laminate collections, the 'Hydro-Seal' treatment. So now there is a third option for waterproof laminate flooring for your bathroom!
Eligna has a simple, understated elegance with smaller plank sizes, but more noticeably there is no bevel on the plank edges, giving the flooring a seamless, continual flow across a room. With a choice of twenty colours, from on-trend greys to rich, warm woods, Eligna offers a finish that's a little different. And with all its features, it packs a punch at a very reasonable £19.99m2.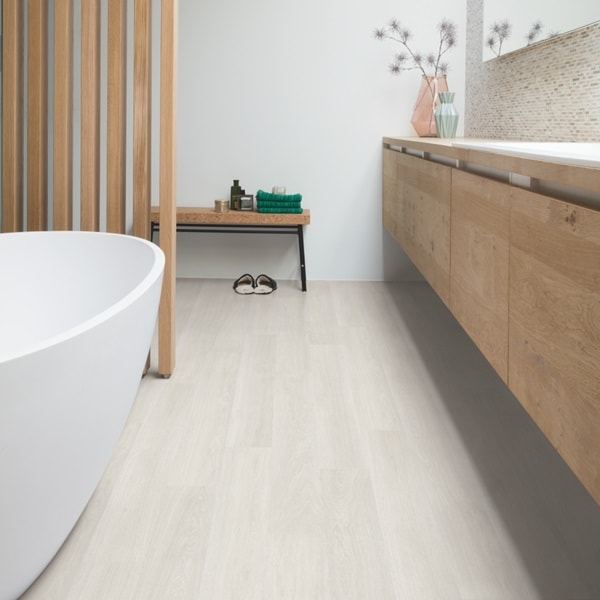 Showing: Quick-Step Eligna EL3573 Estate Oak Light Grey waterproof laminate.

If LVT flooring is above your budget now you can consider laminate flooring for your bathroom, with one of Quick-Step's waterproof laminate collections. Call into any of our showrooms to see samples or arrange your free estimate for Quick-Step flooring across the Cheshire and South Manchester region today. We can also supply Quick-Step laminate flooring if you have a builder or joiner working on a room renovation project for you. Simply give us a call to check availability and order Quick-Step with us!
---