Focus on texture - Sisal
What is sisal? Why does it make a good floor covering and are there any downsides to using it?
We look more closely at this fashionable all-natural fibre to find out where it comes from, its qualities, its flaws and share ideas for its use in the home.

Native to Mexico
Sisal is a hard fibre extracted from the plant Algave Sisalana, a perennial thriving in hot, dry areas such as Mexico and Central America. It's environmentally friendly qualities come down to the fact no pesticides or fertilisers are used in its cultivation. Renowned also for its impressive strength, sisal fibres are coarse and strong yet can be stretched easily. Once harvested, the long, high grade fibres are made into yarns which are then either used on their own or with wool blends to make carpet and other floor coverings. And did you know? Sisal is the second most extracted fibre after cotton.


Showing: Algave Sisalana – commercially grown to make sisal fibres.

The benefits of using sisal in the home?
Whether you go for a chunky sisal or one that's fine, with intricate detail and a softer, silkier texture, the natural fibres will bring true rustic charm with a hint of the exotic into your home. Sisal's tough, hardwearing properties make it an ideal choice of floor covering for rooms like the lounge, bedroom, home office and stairs where traffic is frequent, yet a softer texture is preferred under foot. The excellent heat insulation and sound absorbing qualities lend this style of floor covering to upstairs rooms and the stairs. And being completely organic, it helps to know that sisal is a safe flooring solution to bring into your home, entirely free from chemicals, it's perfect for allergy sufferers. There's a lot to love about sisal!


Showing: Safe, soft and strong, this fine sisal herringbone pattern carpet from Alternative Flooring is ideal for a nursery or bedroom.

Considerations when looking at sisal?
But, there are some drawbacks to a sisal carpet, although laid in the right room and looked after in the right way, you can make sure to get years of enjoyment from it. The first point to bear in mind is that sisal is not moisture resistant and would not lend itself well to damp environments, such as the kitchen or bathroom. Even in a busy family home where there might be pets, children or lots of guests – a sisal carpet might not be the most practical solution. While sisal is strong and hardwearing, it will stain if water is spilled on it. Immediate wiping up of the spillage and avoiding harsh carpet cleaning products are vital, and we recommend all sisal flooring be ordered with additional stain protection treatment, to reduce the impact of liquid spills.
The thicker varieties of sisal might not be best for a room or area where children play as the fibres can be a little rough on bare knees. But for areas where people walk, even bare foot, it's ideal, while a thinner sisal is gentler on bare skin.


Showing: Natural sisal bubbleweave carpet from Alternative Flooring has real rustic charm.

It's installed differently
Due to sisal's natural properties, it needs to be treated differently when installed. Firstly, it's necessary to bring the carpet into the home a few days before installation, to roll it out a little and let it acclimatise. Sisal will shrink or expand slightly so it's important to let it do that, for the perfect fit. We then come and glue the underlay to the subfloor, before gluing the sisal flooring on top of the underlay. We go away again and leave the sisal in position, covering some of the wall and skirting boards to allow extra time for any shrinkage, before returning to cut the edges and tuck them in to finish.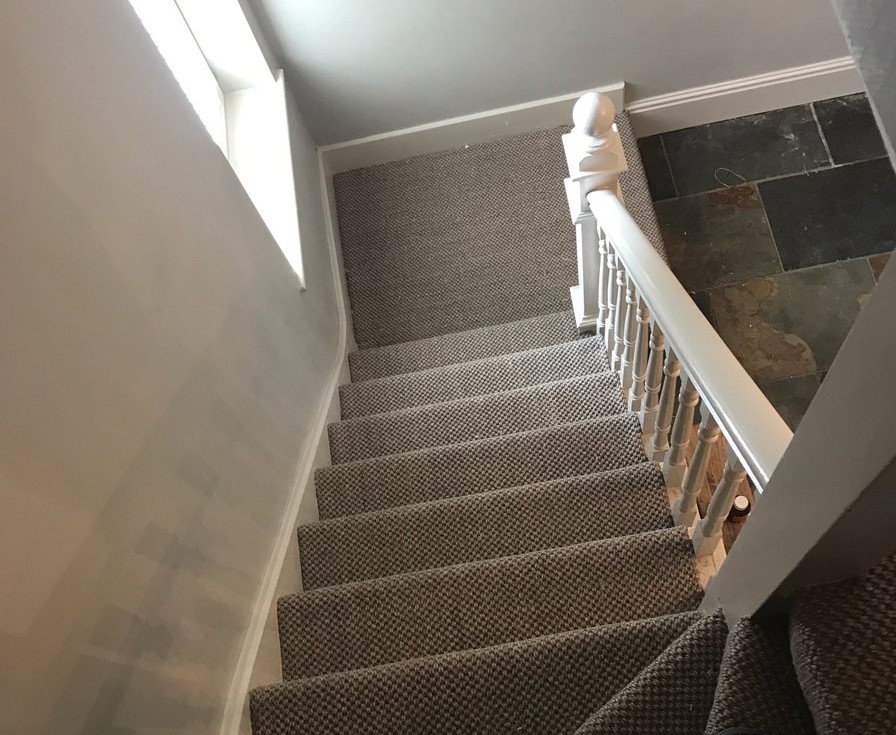 Showing: Alternative Flooring sisal carpet we installed to stairs in Timperley earlier this year.

Rugs and runners too
If you love the look of sisal for your home but worried a vast area is too much commitment, then consider a rug or a runner for your stairs - that way you get the both of both worlds. Sometimes you just can't sacrifice on style!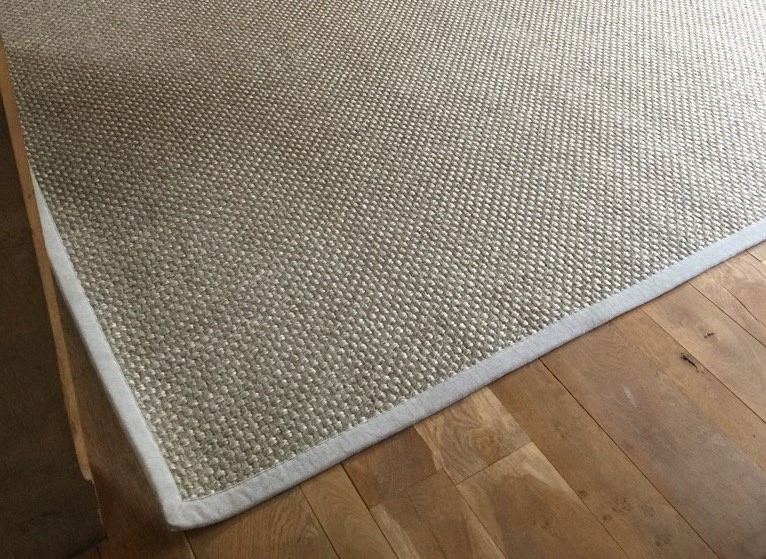 Showing: Crucial Trading bespoke sisal rug we had made for a customer in Knutsford.

We stock sisal floor coverings from a few leading flooring manufacturers such as Crucial Trading, Alternative Flooring and Fibre Flooring, which means plenty of choice depending on the weave, colour, style and room you are looking to finish.
Give us a call for a free on-site survey, or call in to see us to touch, feel and talk more about sisal.
---