Flooring trends for 2021
As we spend even more time in our homes during lockdown, it's a good time to take a look at the flooring trends for 2021. From colours to sustainable materials, we share the different types of flooring which will transcend your interiors and complement this year's on-trend styles. Find out more…

Ultimate Grey
Grey has championed the colour palette in homes for a number of years now, with shimmering shades and different accents being popular. It's been the same in flooring too with greys being the most popular neutral tone in carpets, as well as with laminate and LVT flooring. But this year, grey in interiors takes on a new twist thanks to The Pantone Colour of the Year, which features two colours: Ultimate Grey and Illuminating (yellow). Of course, there aren't too many options when it comes to yellow floors or carpets, but grey is still very much in abundance depending on the flooring type you prefer. So, if you're revamping a room with yellow accents to the walls or via furnishings and other décor, why not bring in the grey via the floor. Here are some options.


Showing: Invictus Sirius carpet 50oz in colour Sesame.
You can't go wrong with the Invictus Sirius carpet – it looks great, is very cosy underfoot, and it is bleach cleanable, bringing you extra peace of mind. There are plenty of grey colour options available in the collection, all perfect for combining with yellow.


Showing: Amtico Spacia Nordic Oak LVT in a herringbone laying pattern.
The Nordic Oak luxury vinyl from Amtico is one of our bestsellers and a popular choice for those looking for grey tones in their flooring. Here we've installed it to a hallway, but it's a great choice for open plan kitchens and diners, where you might be accenting with yellow.


A popular water-resistant laminate, which comes in a range of fashionable grey tones like this one we installed at a home in Sandbach. Soft oak grey is perfect for complementing many colours, so why not try it with a touch of yellow too.

Industrial styling
We're not talking anything too drastic, but there are lots of ways to bring a bit of industrial to your home. It could be adding vintage décor, keeping a room in its natural form, or looking to expose brickwork. Or you might want to choose a floor to help bring some industrial style to life.
A reclaimed wood floor from Ted Todd can really help to accentuate industrial, especially with the provenance of some of the woods. Yes, these are floors which once breathed a different life and today have been lovingly restored as new flooring. Take a look at this floor we installed at a Cheshire home, it's the Heyday plank, an oak which before it was made into engineered planks, was used to make 19th Century farm carts. In fact, some of the planks even have the original markings which would have been seen on the side of the carts!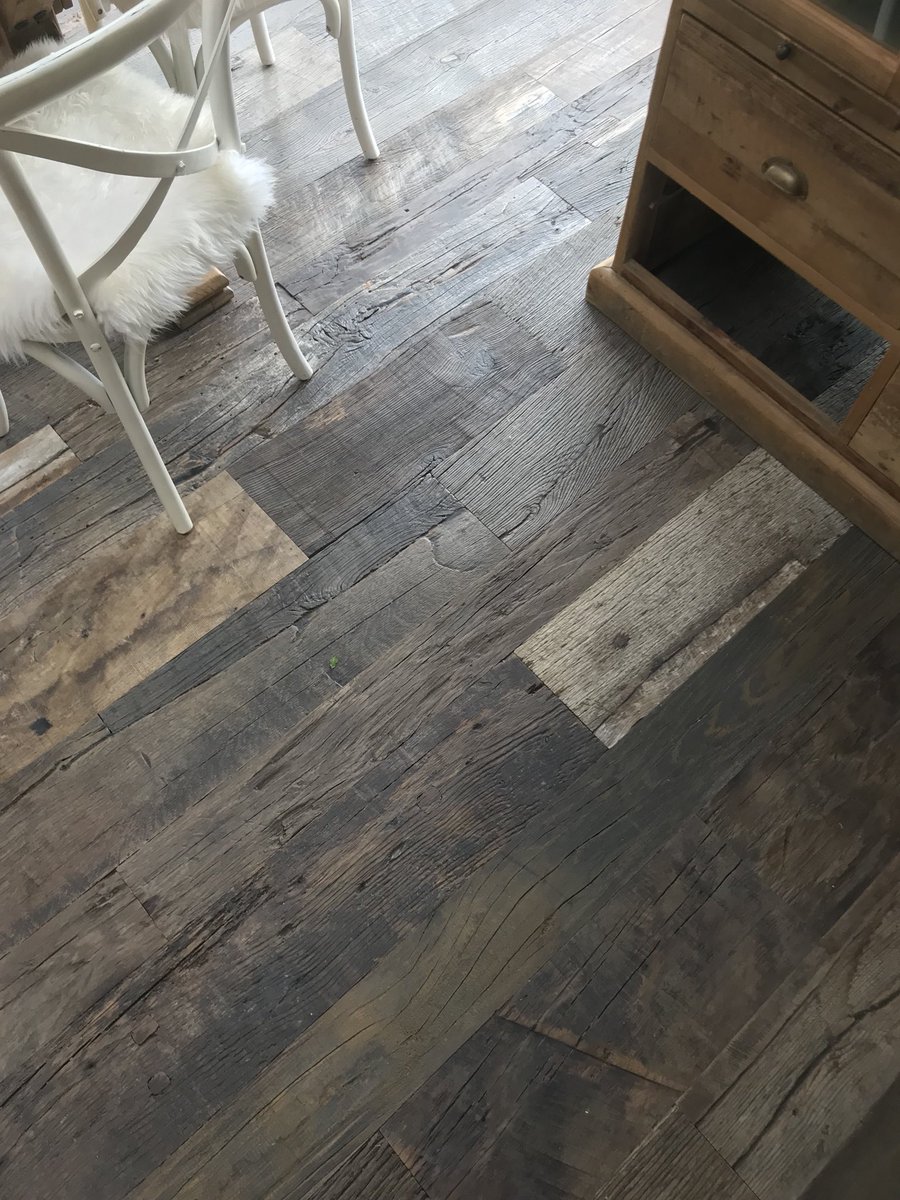 Showing: The Heyday plank from Woodworks by Ted Todd, installed at a home in Cheshire.
A reclaimed floor from Ted Todd does come with a significant price tag and can be too much for many budgets. More affordable options are available with laminates or some of the designer LVT floors.


Showing: Karndean Van Gogh VGW82T Distressed Oak LVT installed by Flooring 4 You.
The Distressed Oak LVT plank from Karndean brings the authentic appearance of a real oak floor with a rustic finish, while being easier to look after and manage. It's a perfect choice for busy families, or those with pets, pls it brings the industrial look without the price tag of a real wood floor.

Colour pop
Blue, green, or something bright - 2021 is all about bringing some colour into our homes. From kitchens to lounges, even bedrooms, we're moving away from neutral whites, creams, and light greys to definitive colour. For example, rich blues in kitchens are very fashionable right now. Even in bedrooms, fitted furniture is sought in a block colour shade. With this in mind, there's a need for flooring and carpet to complement such rich, deep tones in a room. Here are some options for just that.


Showing: The ITC Chablis faux silk luxury carpet in colour Mud, installed at a home in Cheshire.
You can see in the image above how well this lux carpet, not being too dark, works perfectly with the rich green colour of the units in the background.


Showing: Ted Todd Husk Warehouse Herringbone engineered wood floor installed in Prestbury, Cheshire.
A fabulous, engineered wood floor, made from high grade European oak. The Husk Warehouse floor has an oiled finish to accentuate the wood's grain pattern. It's rustic, full of character, and its warm tones see it pair wonderfully with rich, dark, colours like this blue wall.


Showing: Amtico Designer's Choice LVT called The Oslo, made up of Amtico Signature White Wash wood and Amtico Signature Limed Grey in a herringbone pattern, installed in Hale Barns.
The combination of the light tones in the White Wash wood, and the greys in the Limed Grey from Amtico Signature see this floor complement the dark blue of the kitchen units perfectly.

Sustainable materials
We're all becoming more aware and responsible when it comes to the products and items we bring into our homes. This year sees growing momentum for sustainable solutions within home interiors, something which can be achieved with flooring too. Here are some examples of sustainable flooring available from us here at Flooring 4 You.


Showing: The Bali from Crucial Trading, a sisal and coir floorcovering installed to stairs at a home in Alderley Edge.
Crucial Trading is renowned for sourcing 100% natural materials to make its floorcoverings. Their sisal which features in the Bali floorcovering shown, is sourced from countries such as Brazil, China, and Southern Tanzania. The plant is one of nature's true survivors and once stripped and dried is ready to be crafted into flooring for our homes. Meanwhile, the coir used by Crucial Trading comes from coconuts grown and handpicked along the Keralan shoreline. You can even have a rug made from the materials which make Crucial Trading's natural flooring collection, too.


Showing: Cork flooring from Granorte – Emotions cork floor
For something truly sustainable, why not try a cork floor? Yes, cork makes for a pretty special floor. As well as being sustainable, it's a natural insulator with excellent thermal and acoustic properties. It is safe for use in the home because it's naturally fire-retardant, and asthma sufferers will fare better with it as it doesn't absorb dust and is resistant to fungus and bacteria. Despite how light it is compared to other floors, cork has significant strength with its flexible membranes which are both airtight, and waterproof. You can see sample of cork floors at our Knutsford showroom.

To see one of the biggest selections of flooring and carpet in the North West, book an appointment with us to visit our Knutsford showroom in a Covid-safe environment.
Alternatively, if you know the style of floor you want for 2021, and you'd like a quote for installation, then contact us to arrange a safe, home visit.
---