As snug as a tartan carpet
We all know fashions come and go, even in flooring, but one carpet pattern that continues to triumph in homes is tartan. This versatile textile design is no stranger to being used to create new rug and carpet designs, and rightly so with its many colours, which make it even easier to accessorise and style a room. To this day, a lot of carpet manufacturers carry a small range of tartan-inspired patterns in their collections because quite simply, its charm never fades.

We find tartan patterns are popular for lounges and 'snugs' – small, cosy rooms of the home where you might curl up and relax with a book or in front of the TV. They're also great to brighten up an office or study space, an area where hardwearing carpet is needed with a traditional finish or to bring character to the stairs. In this blog post we share more about some of the tartan carpets we carry here at Flooring 4 You Ltd – from full length carpet to stair runners.

Axminster Carpets
A name synonymous with quality and luxury in British carpet manufacturing, Axminster Carpets has a lovely collection of tartan carpets with its Myth & Moor range. The collection features both plaids and tartans inspired by countryside walks, capturing the beauty of the landscape with colours reminiscent of powdery blue skies, rich warm heathers and shades of granite. With names such as Fingle Woods, Moorland Ramble and Widy Jaunt, these carpets are cosy enough to snuggle up to in front of a roaring fire, after a cold walk.


Showing: Dilly Dally in the Axminster Carpets' Myth & Moor range, with its extra heavy domestic use rating.

Gaskell Mackay
Newly formed after the merger of Hugh Mackay Carpets and Gaskell Carpets, Gaskell Mackay has two different tartan ranges available.
Tartanesque is an 80/20 wool mix carpet bringing ten fabulous tartans together, blending the tradition of the Highlands with modern day living.


Showing: Gaskell Mackay Glenn Loy Tartanesque carpet fitted to an entrance room in Timperley.
And with its excellent quality, being made using the 8 row Axminster method, the Tartan carpet range from Gaskell Macay is great for heavy traffic areas being made from 80% wool and 20% nylon fibres. Deep, richly coloured traditional tartans are available alongside brighter, contemporary twists on this classic pattern.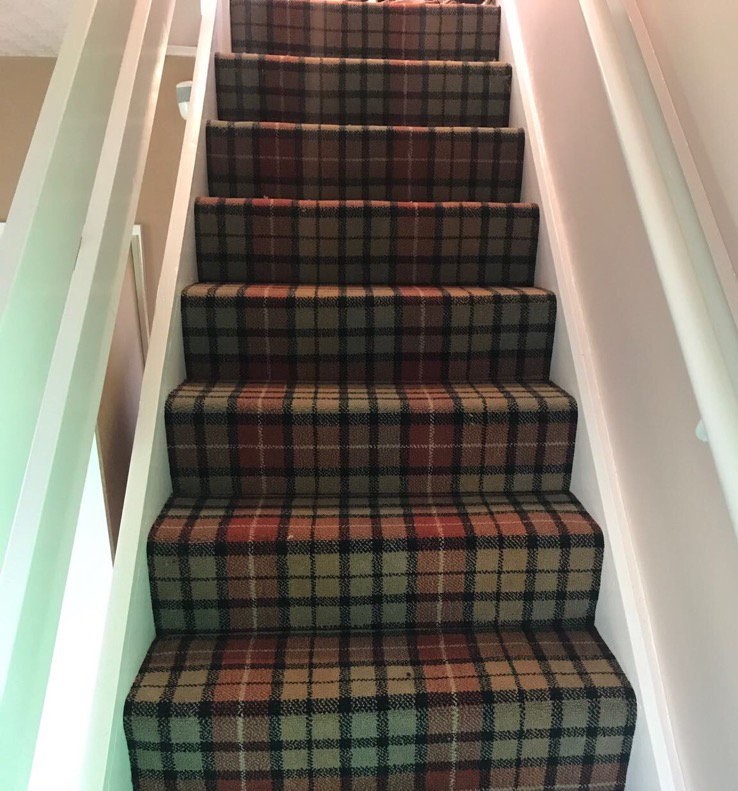 Showing: Gaskell Mackay Weathered Buchanan carpet in the Tartans Plaids collection we installed to stairs in a Cheshire home.

Go for an Alternative runner
Fashionable flooring creator, Alternative Flooring reworks much-loved patterns in its vibrant, fun Quirky B range. All designed and made in Britain, the range includes five high quality tartan stair runners in fabulous colours from damson to duck egg, putting a true modern twist on a traditional favourite.


Showing: Quirky Fling tartan runner in damson from Alternative Flooring.

To browse tartan carpets, call into any one of our flooring showrooms in Bowdon, Knutsford or Timperley. Unfortunately, we are fully booked for any carpet or flooring installations to be done before Christmas 2017, but contact us today for a free survey to secure a January installation.
---