Amtico LVT Flooring - Laying Patterns explained...
Have you heard the term 'laying pattern' when looking for LVT flooring and wondered what it means? Put simply, it's the arrangement of your chosen planks or tiles into a template to allow the design of your floor. With LVT flooring brands such as Amtico, there's a generous choice of planks and tiles in different sizes. These can be laid in different ways to suit your taste and style, bringing you a truly personalised floor. So, what are you waiting for? Unleash your creativity!
Read on to find out more about some of the different laying patterns from Amtico and see real-life examples where we've used them to create customers' floors.

Simple laying patterns
There are different levels of complexity when it comes to a laying LVT flooring, hence Amtico's laying patterns can be split into two groups: simple and designer, with designer requiring more attention to detail and experience from your floor fitting team.
One such simple laying pattern is Stripwood which is an effective way to lay wood effect LVT planks, be that horizontally or at an angle. When laying Amtico LVT to a Stripwood laying pattern, we look to stagger the planks well across the space for a more natural finish.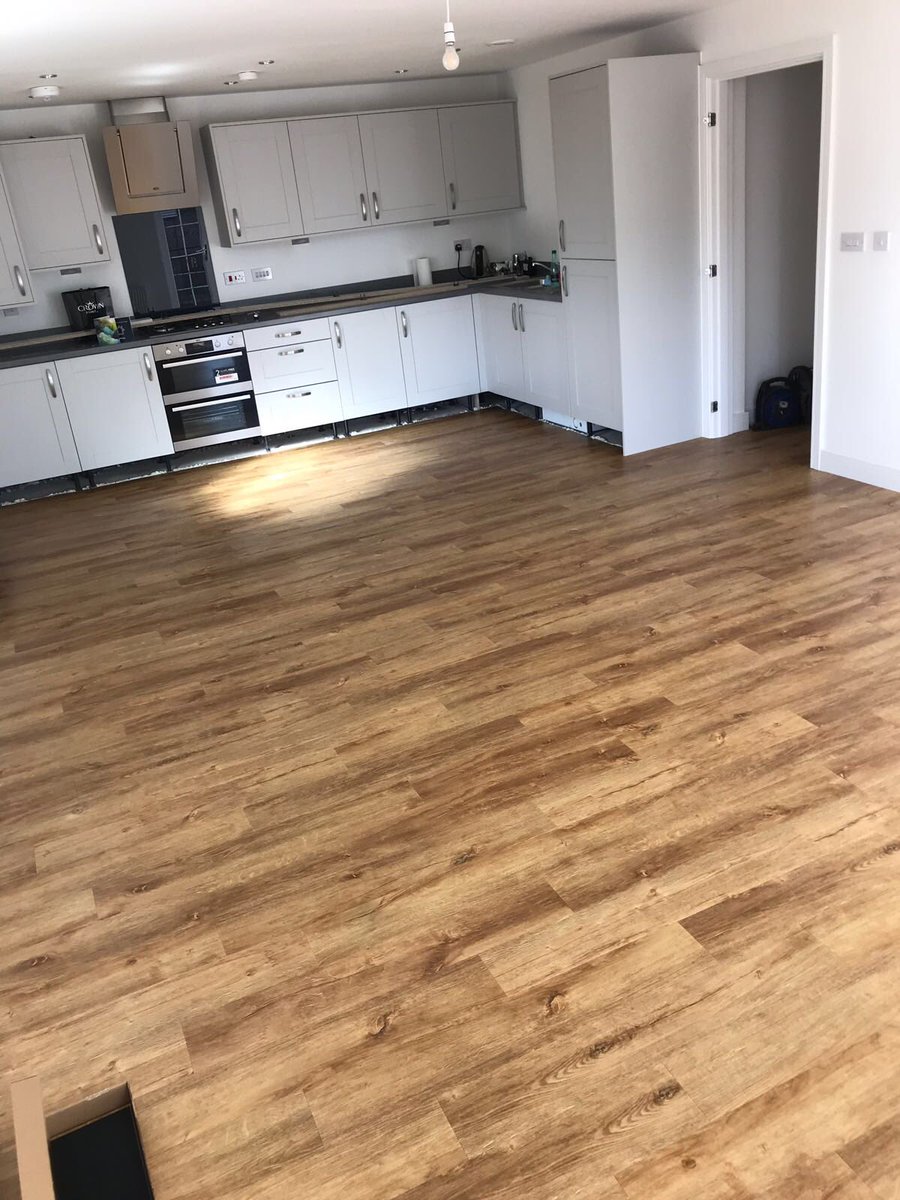 Showing: Amtico Form Rural Oak installed to a Stripwood laying pattern at a home in Didsbury.

Broken Bond is another simple yet popular laying pattern, which we do a lot when installing Amtico stone effect tiles. Again, the tiles can be laid to this pattern either at a horizontal or diagonal depending on the finish you want to achieve. A diagonal broken bond laying pattern works better in a modern, contemporary space. And for extra detail, don't forget you can incorporate design stripping to your flooring, this mimics the effect of grouting and enhances the look of your floor.


Showing: Amtico Spacia Ceramic Flint stone effect tiles with Concrete Pale stripping between the tiles, laid to a Broken Bond laying pattern at a home in Lymm.

Uniform Tile is a good laying pattern option if you want to keep the design of your floor simple. It's achieved by laying the tiles uniformly side by side. Again, the addition of design stripping enhances the final finish.


Showing: Amtico Form Tidal Stone LVT Tile installed at this home in Didsbury in a Uniform Tile laying pattern.

Parquet
Starting to get a little more complicated and requiring extra attention to detail is the Parquet laying pattern, or Herringbone Plank as it's also referred to. In the world of flooring parquet relates to the actual method of laying individual small pieces of wood into a pattern, hence numerous patterns fit under the umbrella term of 'parquet'. That said, the herringbone plank laying pattern is often people's first thought when they think Parquet. And for us here at Flooring 4 You, the Parquet Herringbone plank is the most popular and sought-after flooring design. We do at least three installations a week in this pattern.


Showing: A recent installation done in a Parquet Herringbone Plank laying pattern – it's Nordic Oak in the Amtico Spacia collection, across this entrance hallway space at a home in Hale.

Basket weave is a complex parquet laying pattern, with the small parquet blocks and squares laid arranged in an interwoven pattern. It's eye-catching, luxurious and works just as well across a large space as it does a small one. And using different colours across the floor helps give it a whole other dimension. Here are two examples of a basket weave parquet floor we've done using Amtico products.


Showing: Amtico Signature Priory Oak laid to a basket weave herringbone pattern in Altrincham.
With Amtico's range of small parquet blocks, you can go further to create an individual parquet floor by using a medley of colours. So long as the parquet blocks are the same size, you can have either one, two or three colours within your parquet laying pattern. You'll also notice in some of the pictures of parquet floors we've done, we finish up to the wall with a border created by the same small parquet blocks, laid to a strip. These can be laid singularly or doubled up, making a neat edge and giving the floor a high-quality finish.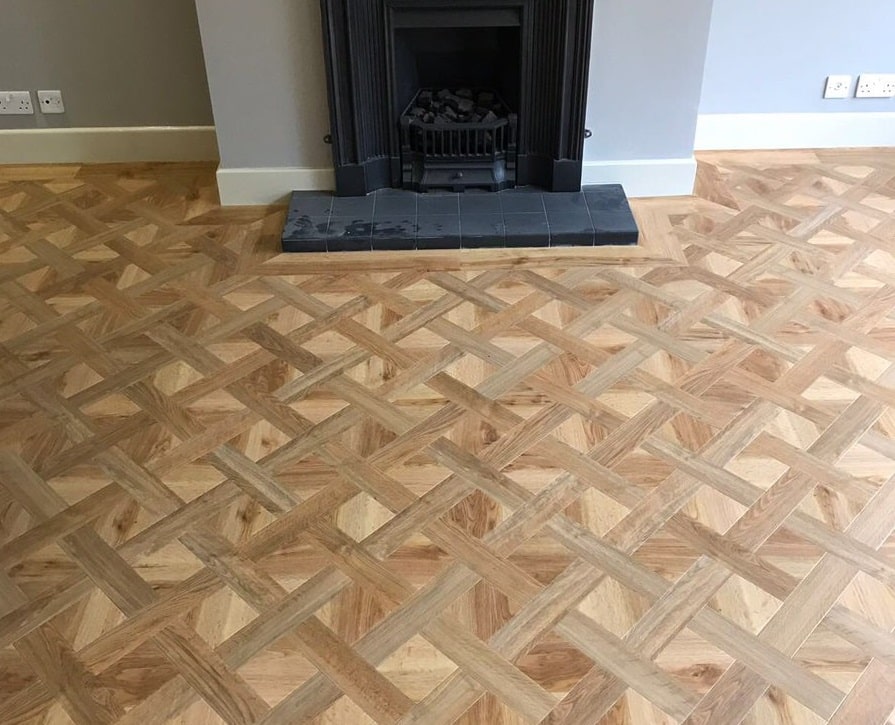 Showing: A parquet floor at a home in Hale in a basket weave laying pattern, with a two-colour combination. This floor uses Classic Oak and American Oak from the Amtico Signature design flooring collection.

For a look of Versailles and a floor of palatial distinction, the French Weave laying pattern is available form Amtico Signature in nine different colours. The pieces required to lay the floor to a French Weave pattern are made to order and supplied in precision cut finished pieces, ready for professional floor fitters like ourselves to lay into the required pattern.


Showing: Amtico Signature Aged Oak parquet laid to a French Weave laying pattern at a home in Appleton, Cheshire.

Not to be confused with herringbone parquet, a Chevron or Pleat floor laying pattern has parquet blocks laid to distinctive angles, coming to a point at the top of each zigzag. Much like the herringbone laying pattern, it's a flooring style that's been growing in popularity over the last few years and is seen in the backdrop of many glossy interior magazines.


Showing: Flooring 4 You work in progress on an Amtico LVT Chevron parquet floor within a hallway of a home in Bowdon.

Another laying pattern that's popular for entrance ways and hallways, even bathrooms is Keystone. Amtico offers Large, Small and Mini versions of the Keystone laying pattern. It has the power to captivate and mesmerise with squares and diamonds which create a subtle movement, the colours shifting the more you look at the floor. The Amtico pieces used to make a Keystone floor are made to order, precision cut to the required size. Something we can guide you through here at Flooring 4 You.


Showing: Amtico Signature flooring laid to a Keystone pattern at a home in Altrincham.

When it comes to a monochrome floor, a Checkered laying pattern with the squares laid to a 45-degree angle looks fabulous and gives the room a slightly different dimension.


Showing: Here is a kitchen floor in Alderley Edge where we installed Amtico Signature Composite Calcium and Graphite Slate stone effect tiles to a 45-degree angle, finished with a diamond border to the edges.

There literally is so much design scope to be had with Amtico flooring – it's one of the reasons why we love it as much as our customers do. From the different laying patterns to the many colours and authentic wood and stone effects, it opens your flooring options right up! You can take the same type of floor across a large space, keeping the colour and style as you move into another room, but change the laying pattern.


Showing: Here's an example of the same flooring, changing the laying pattern in a different room for a different effect. The flooring seen here is Amtico Signature Cornish Oak which was laid to a herringbone parquet pattern across the kitchen/diner, before changing to a simple broken bond pattern in the utility room. It's effective and makes a seamless transition.

Once you have an idea HOW you want your floor to look and which of the laying patterns will work best for you, we can then DELVE deeper into the different Amtico flooring collections to find the perfect plank or tile for you. We hope this blog post gives you the inspiration to design your next floor, but if you need an extra hand or some advice, then call in to see us to talk through laying patterns! Or if you know the Amtico floor you want and you want an expert team to fit it for you, contact us for a free flooring estimate today!
---