All you need to know about Stair Runners
Stair runners remain a popular choice in homes as they bring the best of both worlds: exposing the wood of the stairs and having a bit of carpet. The strip of floorcovering is a bit like a rug exclusively for the stairs before it opens up on the landing to a full-length broadloom. From style to practicality, extra details to what's available, we share all you need to know about stair runners.

Make your own or buy to size
Thanks to the popularity of stair runners over the years, there are a lot more options for how to have one made. Any carpet can be cut to size to make a runner for the stairs, but this is not always the most economical way to do it. For starters there can be a lot of waste. But if you were to have a lot of carpet left over from other rooms of the house, you could consider the excess made into a runner for the stairs.
There are some flooring companies such as the likes of Crucial Trading, Alternative Flooring, Fibre Flooring, and more, who have a range of floorcoverings designed especially as stair runners. By that we mean you can buy them at stair runner width, thus saving on waste. Likewise, these companies make the runners from the best hardwearing fibres and materials to withstand heavy traffic, they also have some fantastic designs to choose from too.


Something different in a material for a stair runner from Alternative Flooring – this is a runner from their Anywhere range (Anywhere is a woven vinyl that's deigned to look like a sisal), finished with a liquorice border and chrome stair rods. Anywhere vinyl is incredibly versatile, exceptionally hard wearing, and looks great in modern homes.

A stair runner to last
When it comes to a floorcovering for the stairs, whether it's a full carpet or stair runner, it needs to be able to withstand heavy footfall. The stairs are used all the time, and the bigger your family, the more pounding your floorcovering will take. So, it's always worth bearing in mind that for an area like the stairs, it pays to invest in a good quality carpet or stair runner. When we say good quality, we are talking about good quality wool blends as opposed to synthetic carpets made from polypropylene. Synthetic carpets are prone to flattening, bursting the pile, which can make a carpet look tired and worn quite quickly.
Best of all are 100% wool carpets. They are hard wearing and long lasting, and despite all the traffic going up and down over the years, wool keeps its shape, and height (no flattening). Wool stair runners also provide natural thermal and sound insulation properties. For a stair runner made from a wool mix or wool blend, we recommend loop or cut pile styles to keep the runner looking as good as new for longer.


A 100% wool striped runner from Alternative Flooring fitted to stairs and a landing at a home in Tarporley, Cheshire. The runner continues across the landing, carrying on its creative style.

What about the edges?
We're often asked how we prevent the edges of stair runners from fraying over time. For runners made from cuts of carpet, we send the final length away to have the edges whipped. This is a process where the carpet edges are bound to make them look neat, but importantly to stop them from fraying.
On-trend flooring company Alternative Flooring has a range of purpose-designed stair runners available in standard 66cm widths, all coming with self-coloured whipped edges. They also have their 'Quirky' range of stair runners, which come in a choice of bright, bold patterns, at bigger 69cm widths, and with a high-quality selvedge finish. So, no need to worry about fraying.
We encourage creativity when it comes to designing your own stair runner. If you want to make your own from a piece of broadloom, we can look at whipping options, or you can choose a border, where a range of materials in different colours are available.


This is the Alternative Flooring skinny black runner from their Quirky B collection, which the Flooring 4 You team fit to a three-level staircase at a home in Knutsford.
Stripes, patterns or plain?
It really comes down to personal taste when it comes to the stair runner you choose. Stripes are always popular because they make an impact, plus the lines work well when it comes to the angles of a staircase. From thick, bold coloured stripes, some of the carpet brands we stock also offer thinner, more subtle stripes if you didn't want anything too extravagant. As well as stripes, V-shapes and herringbone are also a good choice as they create a similar angular effect, taking your eyes upwards from the base of the stairs.
Patterns are great, especially if you want your stairs to sing when people enter your home. Again, we have options from statement-making runners to much more understated, depending on your preference. And some customers opt for a plain runner, with the idea of carrying the same carpet across the landing and in some cases, into the bedrooms.


A luxury stair runner installed to this staircase at a Cheshire home – the runner is a 100% wool Natural Choice Axminster from Ulster Carpets.

Decorate with stair rods
To really make your stair runner stand out and look luxurious, go that one step further and decorate it with stair rods. These com available in a choice of colours, materials and finishes, and samples can be seen at our Knutsford flooring showroom. Whether you want steel, aluminium, brass or even wood, stair rods bring that extra touch to complement your interior.
Some flooring and carpet businesses recommend using stair rods to help keep stair runners in place. We don't specify them for this reason as we do not use glue or adhesives to lay our carpets or runners. We staple down all our stair runners, so any stair rods used with them are purely for aesthetic, decorative detail. It's down to you as the homeowner whether you want that finish – a lot of the time we find people want stair rods but once their runner is in place, it looks fabulous enough without them.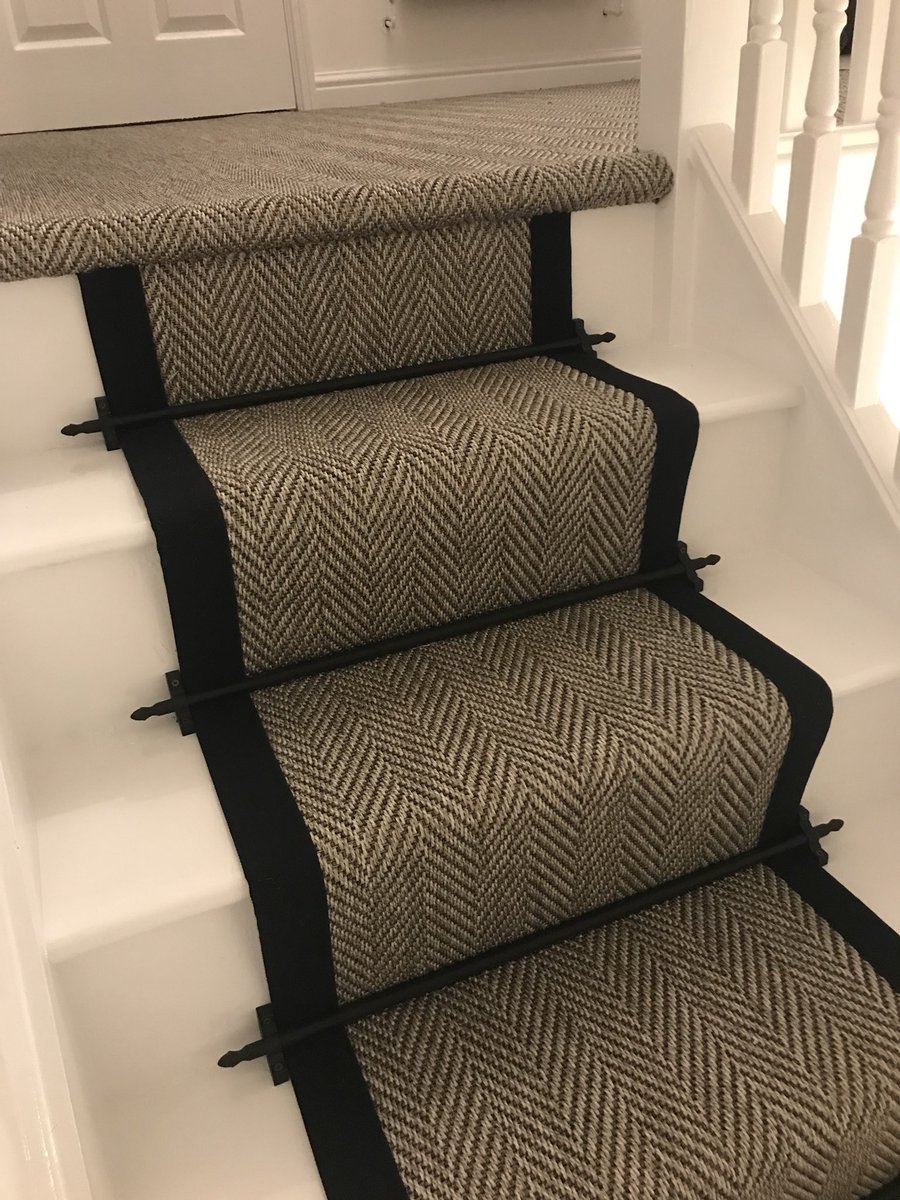 This stair runner at a home in Warrington comes from Unnatural Flooring - it's the New England Bar Harbour floorcovering, which is another woven vinyl material made to look like a sisal herringbone. It's been edged with black binding and finished with black stair rods.

Whether you're looking for your first runner, or you're having one replaced to refresh your stairs and landing, visit our Knutsford showroom to see the many stair runner options we have available across styles, colours and budget.
Alternatively you can book your free on-site survey with us today before choosing your perfect stair runner.
---