A doormat, your Autumn flooring essential
As Summer ends and Autumn begins, wet shoes and soggy leaves will be sneaking their way into our homes with a vengeance and there's only one thing that will keep them at bay, protecting our floors and carpet, (apart from dry, sunny weather of course!) and that's a doormat.
We judge clean homes by how clean our floors are, and as well as that, dust, dirt and grime can exacerbate allergies. So, there's plenty of reasons to invest in a good quality mat for your home – just think of the time and expense you can save on cleaning floors!
In this blog post we share a few options for matting; whether fixed, permanent solutions for porches and vestibules, or mats that can be picked up, moved and cleaned.

Coir dear! Remember to wipe your feet!
Coir is a wonderful natural fibre, made from the husk of the humble coconut and our range of high quality coir matting comes from Kersaint Cobb, available in six different colours.


Showing: Kersaint Cobb matting samples available to see at our three showrooms.

Installed in the same way as carpet, this matting is ideal for porches and vestibules or other entrances where matting is to be made a permanent fixture. Coir is super strong, water absorbent and great for capturing mud and moisture from dirty, damp feet. The fibre strands are tough enough to hold down any dirt too, preventing other shoes from picking it up and transporting it through the home. This great barrier from the outside to protect your floors is easy to keep clean - a quick vacuum and clumps of dirt are soon gone.


Showing: Kersaint Cobb coir matting installed to an entrance into a home.

Kersaint Cobb matting starts from £29.99m², is available in 1m and 2m widths and can be ordered without the need for an on-site survey.

Say goodbye to dirt with a Turtle Mat
Whatever the entrance to your home; front door, side door, patio doors, a Turtle Mat makes a warm and welcoming entrance but more importantly helps keep your floors cleaner for longer. Industrially engineered, the super absorbent cotton and microfibre blend tufts trap dirt, mud and dust from shoes, boots and even paws!


Showing: A Turtle Mat from the Royal Horticultural Society Collection.

As well as excellent dirt-trapping capabilities, the indoor Turtle Mats can be machine washed regularly to keep them looking bright and clean. A special fibre-bind layer creates a tough bond between the cotton top and rubber base, giving the mat flexibility and making it suitable for machine washing. And it's the rubber base of the Turtle Mats that makes them ideal for use on luxury vinyl planks and tiles from brands like Amtico and Karndean, as the properties in the latex are non-damaging and anti-stain. A Turtle Mat won't budge either, being slip resistant on hard floors and remaining flat on carpets.


Showing: The Serena Stripe Turtle Mat – great for stopping mud and dirt from boots and paws.

We stock Turtle Mats in our Knutsford and Bowdon showrooms, from the designer styles to the plain mats. And we can order a specific style direct from Turtle Mat if we don't have the one you want in stock. Prices start from £21.99.

Take it to a commercial level
Nothing says leave dirt at the door than commercial grade matting, which is why we offer our customers a choice of this tough effective matting from one of the country's leading manufacturers of commercial carpet and entrance matting, Burmatex®.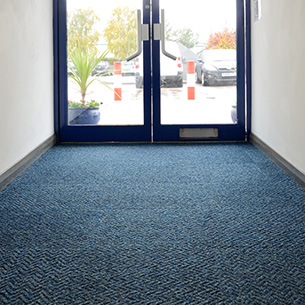 Showing: Burmatex Chevrolay 50 entrance matting with its chevron design.

Burmatex entrance matting is made from hardwearing fibre bonded carpet tiles, ideal for busy entrances. Classified as suitable for heavy contract gives you an idea of how resilient this kind of matting is, and while it's not to everyone's taste, for those with large families or a busy entrance that leads straight into the home from outside, this high-grade matting is a great barrier to preventing dirt and moisture from damaging your floor. Burmatex matting is available in 50cm x 50cm, tiles or it can be cut from a 2m wide roll to any length up to 30m. Prices start from £29.99m².


Showing: Burmatex Grimebuster 50 entrance matting with a diagonal rib surface.

Visit any of our showrooms to talk about your matting requirements, although if you want to browse our selection of Turtle Mats, we recommend you visit our Knutsford or Bowdon showrooms. An on-site survey is not necessary for any coir matting – you can contact us with the measurements and order over the phone or by email, before booking an appointment to have one of our expert carpet fitters install it at your home.
---